Remote Learning/Covid-19 Information
This page is here to support you with remote learning during the Covid-19 pandemic. On this page you will find some useful information about how we are structuring home learning and links to useful websites that may support you during this time.
Will we cover the same curriculum?
We teach the same curriculum remotely as we do in school wherever possible and appropriate. However, we have needed to make some adaptations in some subjects. For example, some science topics such as electricity may require apparatus that would not commonly be found at home. In these circumstances, this will have either been changed to another science topic or revision lessons on previously taught subjects will be covered instead.
Work is currently set through each individual class page which is password protected. The username and password for you child's/ children's class web pages will have already been sent to you. If you have not received this please contact the school office.
If you are unable to access the learning then please contact the school office and a member of staff will support you.
What will each day look like?
Each day, children will receive the Department for Education (DfE) recommended 3 hours of learning for Reception to Year 2 or 4 hours for Year 3 to year 6. This will normally include: English, Maths and one topic task. Where possible, we will send children home with a home learning book in which they can record their learning.
Please find a suggested timetable below that you can either follow or adapt to fit your family's schedule.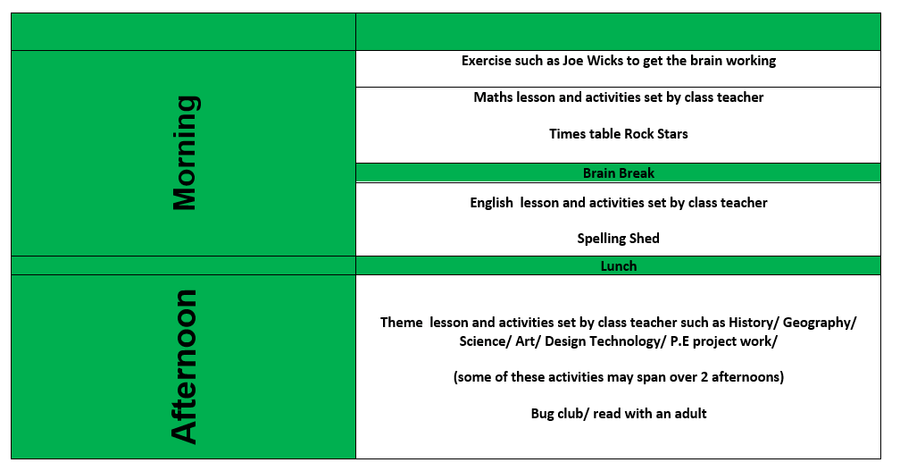 The learning will use a combination of the following approaches to teach pupils remotely. These include:
recorded teaching from Oak Academy, White Rose, phonics, BBC bitesize etc.,

Bug Club for individual reading,

Ed Shed for set spelling work,

Powerpoint presentations

videos used to support theme work set weekly

worksheets to support learning

creative activities to support theme

investigations for Maths or Science

research based learning

project work
How will feedback be provided to my child?
When the children have completed their learning, please send photos or scans of their learning to the office email. This will then be forwarded on to their class teacher who will be able to mark the work and give feedback or next step questions to support the children further. Teachers will provide feedback to all children between the hours of 9am – 4pm.
Each class will also have 3 weekly Zoom sessions where general feedback for the whole class will be given. This will also be a chance for children or parents to ask questions regarding the learning.
Home-learning certificates will then go out every Friday to those children that have submitted a range of learning throughout the week. There will also be Spelling Shed and Bug Club certificates for the child in each class who have practised their spellings or read their book the most during that week. A weekly Times Table Rock Stars certificate will also go to the child in years 3-6 who has best represented their house that week. Numbots certificates will be given to those children from in Year 1 and Year 2.
My child has additional needs. How will their learning work?
We recognise that some pupils, for example some pupils with special educational needs and disabilities (SEND), may not be able to access remote education without support from adults at home. We acknowledge the difficulties this may place on families, and we will work with parents and carers to support those pupils by providing individual learning packs that will be sent by email to specific parents or work packs should parents be collecting from school. We will use Zoom meetings, phone calls and emails to monitor how pupils are progressing with their learning in order to make any amendments if needed.
How can parents support home learning?
We ask that parents support the school in facilitating the home learning for their child. We ask that as a lot of learning will be online, that parents supervise their child when online, to ensure that they are kept safe and also behave responsibly online. Where children aren't engaging with learning, please contact the school office by telephone or email and the class teacher will be in touch to see how we can support you.
For further information please see our Remote Learning policy on our policies page.
Please find our Recovery Plan here. This was developed alongside the SWAN (Safe, Wellcoming, All Together and Nuturing) approach for the return to school in September and will be updated when the date for all children to return to school has been confirmed.
Please found our Covid Catch-up Premium Spend report here
Helpful Resources
This section is to provide you with additional resources to help support your child/ children with their learning. These are to be be used alongside or in addition to the learning set by the class teacher. There are also some well-being activities that are there to support your child's/ children's mental and emotional health during this time. This section will be updated as new resources are made known to us.
Virtual Schools Kent have developed a great home learning resource booklet which has some tips on how to help your child/ children learn at home. Please find it here.