Helen Whately, recently re-elected MP of Faversham and Mid-Kent, visited our school on 22nd November and has committed to help in raising awareness of our solar project!
School Solar Project
"Let The Sunshine Shine On Us!"
As a school, we have recently started to explore the option of installing solar panels onto the roof of the school in order to reduce our carbon footprint and the impact that our school has on the local community and the environment as a whole.
Solar panels are a source of renewable energy and do not release greenhouse gases. They are therefore becoming a popular option for renewable energy. The process of converting sunlight to electrical energy has improved hugely over the last few decades and is now more efficient than ever. The use of solar energy in small devices, such as calculators, has been around for a long time the process is now being used to power houses and businesses on an increasing scale.
Did you know that rays from the sun can produce around 1000 watts of energy for every square meter of the Earth's surface? By collecting that energy the demand on fossil fuels is dramatically reduced. Our school hopes to achieve this, therefore reducing our carbon footprint and impact on the environment.
Each solar panel contains many different silicon or solar cells, the "building blocks" of solar panels. These cells absorb the energy from the sun and convert it into electricity. This is done when the sunlight is converted in Direct Current (DC) electricity by the silicon and the conductors within the solar panel - this electricity then flows into an invertor which, in turn, concerts DC to AC (alternating current) electrical power which can then be used at school. In addition, any excess electricity that is not used is fed back to the grid and can provide a small income.
The roof of our school has been identified as a suitable area to accommodate solar panels. This is great news; as a green school we are constantly looking for ways to reduce our impact on both the local community and the environment as a whole. Our solar aspirations make for an exciting new project that we hope will achieve support from families with children at our school, individuals and groups from the surrounding local area, as well as business and those from further afield.
We anticipate the cost of this solar project to be around £42,000 and are currently exploring funding avenues that will enable us to secure this money. On 18th November, we will be launching a campaign through Crowdfunder which we hope will attract a large amount of support. We will be contacting individuals, families, and businesses both big and small, in the hope that we can raise a large proportion of the required funds in this way. The school will also be applying for a range of grants to make up any shortfall, so that we can reach our target of becoming a zero bill eco school.
Why Do We Want This?
We are a green school and constantly looking for new ways to lead our school community towards a healthier, cleaner and more sustainable future. Our school is committed to recycling, upcycling, the reduction of waste, and re-using resources where at all possible. Our project, "Let The Sunshine Shine On Us" reflects our simple goal, and will enable us to reduce our demand on fossil fuels and instead use energy from sunlight to generate electricity to power our school. Our pupils are educated and encouraged to understand that they, as individuals, can make a difference by making smart choices that consider the impact of a particular activity on the environment.
Where learning and play are both powered by the sunshine!
By using renewable energy to power our school, we can rest assured that the consistent source of this energy, the sun, won't run out resulting in a greener educational space for our current pupils, and those in years to come. Clean energy for a bright future; something our school wants for each and every pupil that shares our journey.
Helen Whately's Visit to the School
On Friday 22nd November 2019, we welcomed parliamentary candidate Helen Whately to our school. Helen is a Conservative Party politician who has been the Parliamentary Under-Secretary of State for Arts, Heritage and Tourism since September of this year and the Deputy Chairwoman of the Conservative Party as a result of being an MP for Faversham and Mid Kent since 2015. Helen is currently standing again in December's parliamentary election in the hope that she can continue her work as an MP.
Helen was made aware of our current journey to raise funds for the installation of solar panels and, whilst she is unable to directly contribute financially, Helen wanted to show her support by visiting the school and helping us to raise awareness of our renewable energy campaign through contacts she has through her MP work.
Helen was given a tour of the school by Chloe and Louis in Year 6, who were both amazing ambassadors for the school and chatted to Helen at length about the school, what we offer to our pupils, the ethos of the learning opportunities offered, and about our Forest School provision. Helen also thought our Takeover Day looked great fun!
We are hoping that there will an article in the Kent Messenger shortly, about Helen's visit and her support of what we are trying to achieve, to further raise awareness of our solar fundraising campaign.
Helen's visit to our school featured in the Kent Messenger on Thursday 28th November 2019 and is also on Kent Online to help raise publicity and awareness of our fundraising: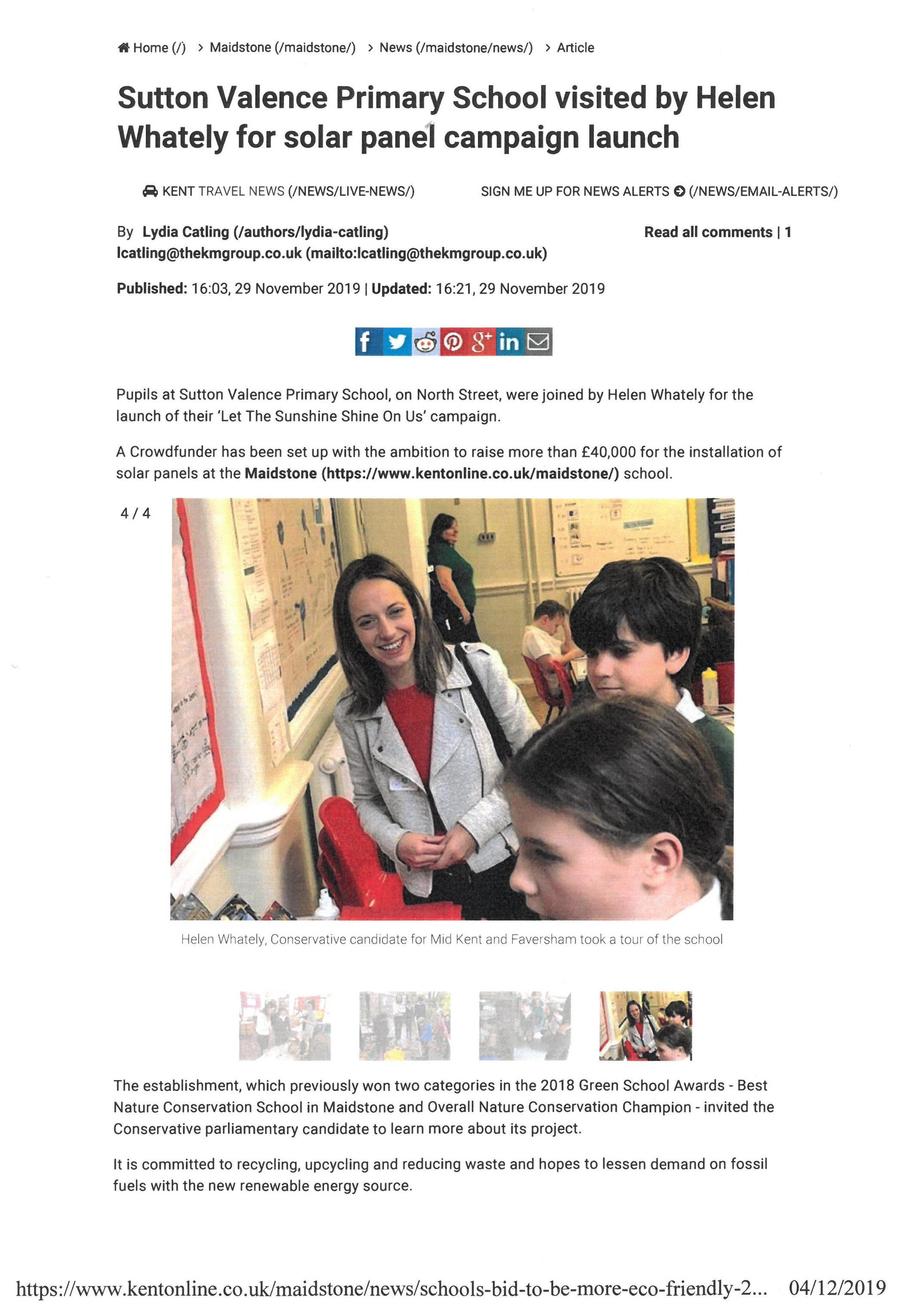 An amazing 242 individuals and organisations have recently made pledges via Crowdfunder in support of our solar project. The competition under the umbrella of M&S Energy has now closed, but we received pledges totalling £9529 towards the installation of our solar panels and our journey remains ongoing.
Thanks to everyone who has supported us so far during phase one of our fundraising. The Crowdfunder platform is still live so please keep on spreading the word about what we are trying to achieve and why it is important for our school.
An amazing £5,000 pledge from local management services company Envirotec kicked off our campaign in mid-November 2020 and got us off to a great start. A further 241 people have pledged their support, including another superb donation of £1,000 from Rod Harcourt and John Reynolds! Thank you to ALL for your incredible generosity.
Through Crowdfunder we raised £9,529 which, after fees and VAT, means that we already have just over £8700 in the bank towards the installation of solar panels at our wonderful school. Crowdfunder was always going to be one part of a wider fundraising strategy so watch this space for further updates and funds secured as we carry on our journey and towards our goal of using renewable energy to power our school and pupil learning.
In May 2021 we also received £500 from Sutton Valence Parish Council which is an amazing amount and takes us to 22.4% of our target. Thank you so much to councillors for their support of our quest.
Our fundraising thermometer has been updated to reflect the amount of funds currently raised out of the £42,000 required.
Our search for support, sponsorship and funding continues until we reach our goal!
Check out our simple YouTube project video!
Please visit
to view and share