Pupil Illness
Click here to find out if your child needs to take time off school. At Sutton Valence Primary School we follow the Guidance on Infection Control produced by Public Health England.
Please also refer to this useful leaflet as a guide to when you should and shouldn't send your child into school if they are unwell.
Attendance
At Sutton Valence we want children to want to come to our school and enjoy learning about the world in which they live. By law, all children of compulsory school age ( five to 16 ) must receive a suitable full-time education.
Once your child is registered at school, you are legally responsible for making sure that they attend regularly. If your child fails to do so, you risk getting a penalty notice or being prosecuted. You should also consider the impact of missing school on a child's:
friendships

learning

self-esteem and confidence.
Sutton Valence Primary School monitors the attendance of every child in the school in partnership with Kent County Council's School Liaison Officer, we will work with and support those children and their families who are not attending school regularly without sufficient reason. We do this under our "Project 95" scheme, an on going monitoring programme that we have adopted.
Whilst 95% attendance may sound OK, here at Sutton Valence Primary School we expect at least 97% attendance from all of our pupils across the school. Please refer to the table below - it is surprising how a day off here and there throughout the school year can impact on your child's learning, and there are strong links between attendance and success.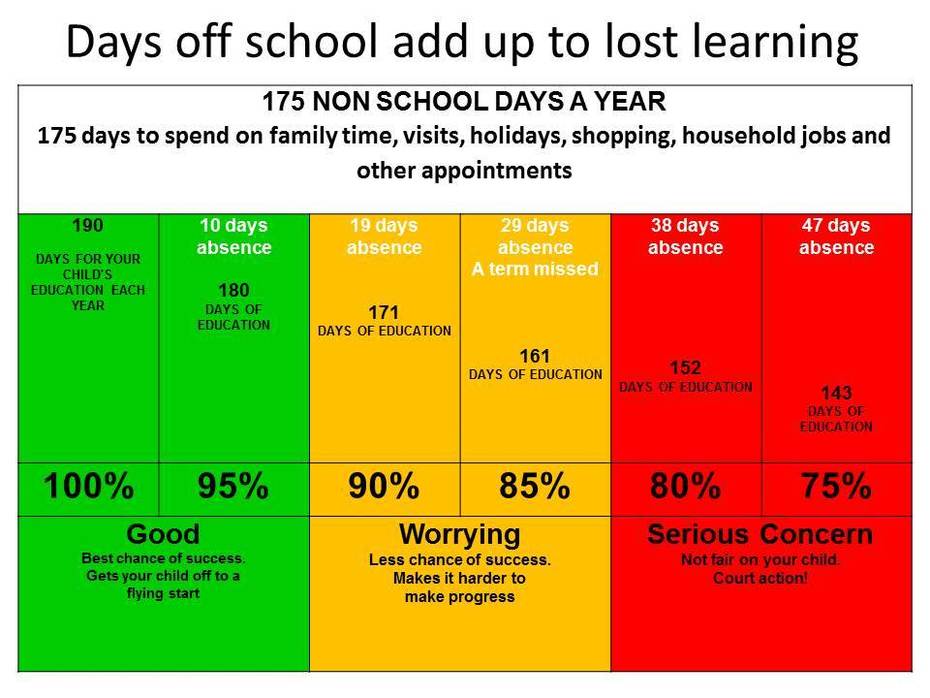 Punctuality can play a huge part in attendance too. Did you know that if your child is just 5 minutes late to school each day, this is the equivalent of 3.4 whole school days in one academic year - that's 17 lessons! At Sutton Valence Primary School the school day starts at 08.55am. All pupils should be on site by this time, in class and ready to learn. Children that arrive between 08.55am and 09.05am will be marked late; this does not affect attendance but stays on their attendance record nonetheless. Any child arriving after class registers close at 09.05am are marked with a U code, which significantly affects a child's attendance as it actually represents an absence for the whole morning's lessons in school.

To visit Kent County Council's website for further information regarding school attendance, follow this link .
Please click here for our School Attendance leaflet.
Please find the DFE Working Together to Improve School Attendance - Parent Guide below