Attendance
At Sutton Valence we want children to want to come to our school and enjoy learning about the world in which they live. By law, all children of compulsory school age ( five to 16 ) must receive a suitable full-time education.
Once your child is registered at school, you are legally responsible for making sure that they attend regularly. If your child fails to do so, you risk getting a penalty notice or being prosecuted. You should also consider the impact of missing school on a child's:
friendships

learning

self-esteem and confidence.
Sutton Valence Primary School monitors the attendance of every child in the school in partnership with Kent County Council's School Liaison Officer, we will work with and support those children and their families who are not attending school regularly without sufficient reason. We do this under our "Project 95" scheme, an on going monitoring programme that we have adopted.
Whilst 95% attendance may sound OK, here at Sutton Valence Primary School we expect at least 97% attendance from all of our pupils across the school. Please refer to the table below - it is surprising how a day off here and there throughout the school year can impact on your child's learning, and there are strong links between attendance and success.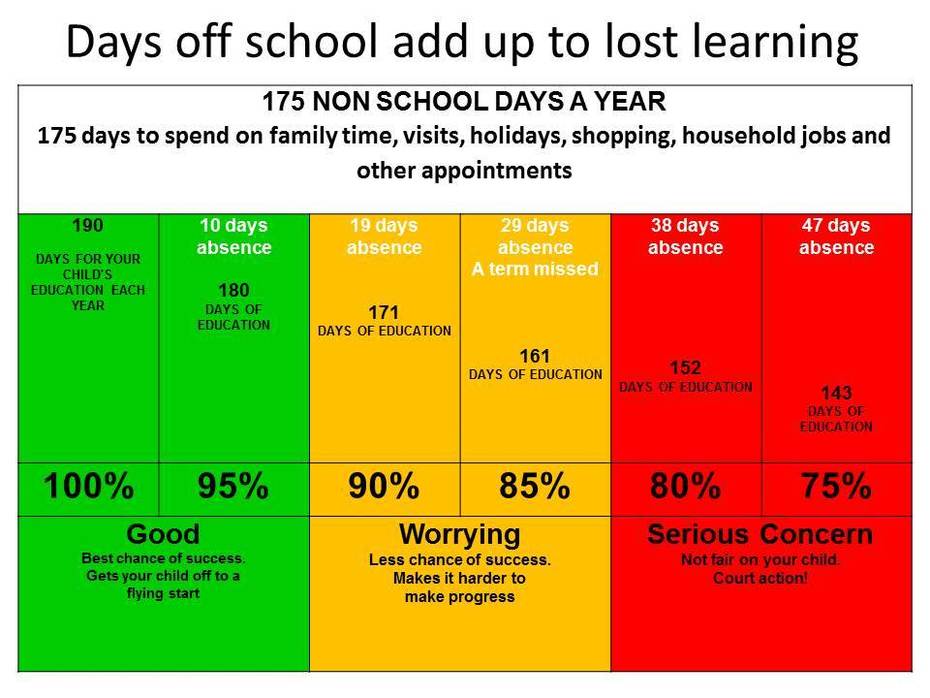 Punctuality can play a huge part in attendance too. Did you know that if your child is just 5 minutes late to school each day, this is the equivalent of 3.4 whole school days in one academic year - that's 17 lessons! At Sutton Valence Primary School the school day starts at 08.55am. All pupils should be on site by this time, in class and ready to learn. Children that arrive between 08.55am and 09.05am will be marked late; this does not affect attendance but stays on their attendance record nonetheless. Any child arriving after class registers close at 09.05am are marked with a U code, which significantly affects a child's attendance as it actually represents an absence for the whole morning's lessons in school.

Tips for Improving Attendance
Set a bedtime routine... and stick to it!
Don't keep your child off school unless they are too unwell to be comfortable and/or contagious
Be on time! Arriving after 9.05am counts as a whole morning of absence!
Make all appointments for outside of school hours
Don't book holidays in term time, lessons are not repeated
Give your child plenty of time to get ready in the morning. Lay out clothes and pack lunches the night before
Make sure your child knows that you don't approve of school absence
Explain to your child the benefits of regular attendance
Eat a healthy breakfast, as it helps keep you awake and with concentration
Set termly goals of 100% attendance, and smaller weekly goals so the task doesn't seem unachievable
School Attendance Myths... Busted!
Absences in primary school don't really affect a child's school records
WRONG!
Children who demonstrate regular absence in Early Years generally achieve lower academic performance than their peers, both during primary school and beyond. Developing bad attendance habits in primary school is proven to adversely affect general attainment. In particular, reading and writing skills are learned at an early age and school absence results in children falling behind their classmates. Regular/unnecessary absence should be addressed early on and strategies put in place to improve attendance straight away, both at home and at school.
My child will be able to catch up
WRONG!
Most primary age pupils who miss more than 4 or 5 days of school in one academic year tend to always be trying to "catch up" rather than "keep up". Lessons are not repeated for children who are absent, and valuable parts of learning are subsequently missed. Absenteeism causes gaps in children's learning, whatever stage of their education they are at. Teachers often provide instruction that builds on things learned or experienced the previous day; it's a bit like trying to build a tower with the bottom row missing, it is impossible to build on and extend knowledge when one level is missing!
Missing a few days of school each year is normal and doesn't matter that much
WRONG!
Data collected by the Local Authority indicates that missing only 4 days of school in one academic year, meaning a child's attendance would be 98%, regardless of the cause, impacts a pupil's academic performance and starts to shape attitudes about school.
To visit Kent County Council's website for further information regarding school attendance, follow this link .
Please click here for our School Attendance leaflet.