100 Things To Do Before Leaving Sutton Valence Primary School
At Sutton Valence Primary School we believe that school life is much more than what children learn in the classroom and we want our pupils to learn as many skills as possible and have as many different experiences as they can during their time at primary school. We are delighted to announce the launch of '100 Things to do before leaving Sutton Valence Primary School', which has been rolled out across the school this term.
Our '100 Things' booklet has been a work-in-progress project for some months now and has been planned, designed and executed by staff from scratch to try and incorporate a range of ideas, activities and skills so that your child can record and be proud of their achievements every step of the way. There are such a wide range of activities that there will always be something to do!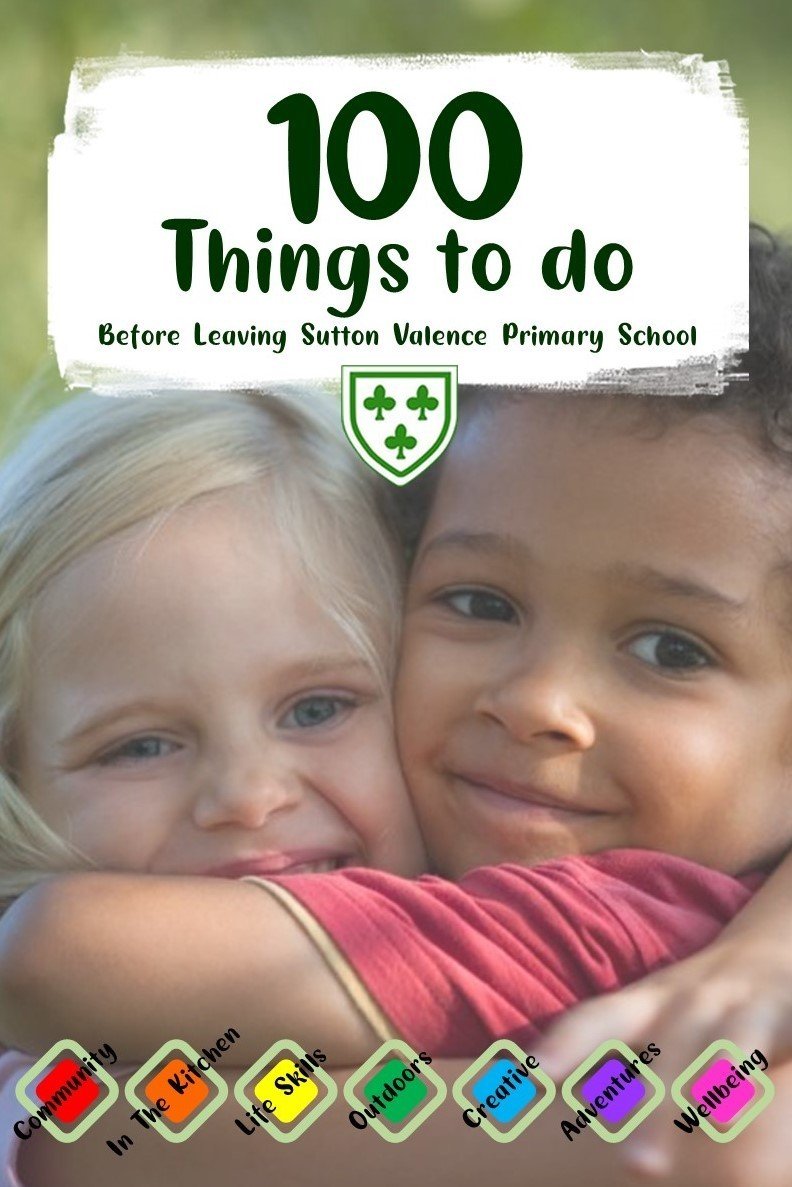 Each time your child completes an activity, send them into school with the booklet they have been issued with so that they can receive a designated sticker from staff. They will also be given a token to place in a special display box located in the main reception area so that we can, as a school community, all view, share, and celebrate each and every child's achievement and progress. There are also designated scrapbook pages at the end of each section for your child to draw, stick or write mementos and souvenirs at every stage of their journey. This booklet will also be a fantastic keepsake in years to come.
We hope you will be as excited about this initiative as we are in school, and that you will support your child in completing the 100 challenges within the booklet.
If it's hard, keep going… if it's easy, challenge yourself and make it harder!
September Challenge
Brilliant Bees
Did you know that bees provide us with every third mouthful of food we eat? Without bees, we would be unable to grow lots of our favourite foods, including tomatoes, blueberries, strawberries and green beans.
They also contribute over £650 million a year to our economy! As well as being fascinating insects, these creatures are a vital part of our world and need our protection.
When you think about bees, bumblebees are probably what buzzes to mind. But did you know there are actually 24 species of bumblebee in the UK? They can be found from the south coast to the Shetlands, and it's a true sign of spring for all of us when these fuzzy creatures are spotted zipping from flower to flower.
Your challenge is to go for a bee hunt either in your garden or in local area.
Try to get a photo of your bee.

Can you spot different bees while exploring?

Can you identify what bee you have spotted?

What flowers or plants to bees like?