100 Things To Do Before Leaving Sutton Valence Primary School
At Sutton Valence Primary School we believe that school life is much more than what children learn in the classroom and we want our pupils to learn as many skills as possible and have as many different experiences as they can during their time at primary school. We are delighted to announce the launch of '100 Things to do before leaving Sutton Valence Primary School', which has been rolled out across the school this term.
Our '100 Things' booklet has been a work-in-progress project for some months now and has been planned, designed and executed by staff from scratch to try and incorporate a range of ideas, activities and skills so that your child can record and be proud of their achievements every step of the way. There are such a wide range of activities that there will always be something to do!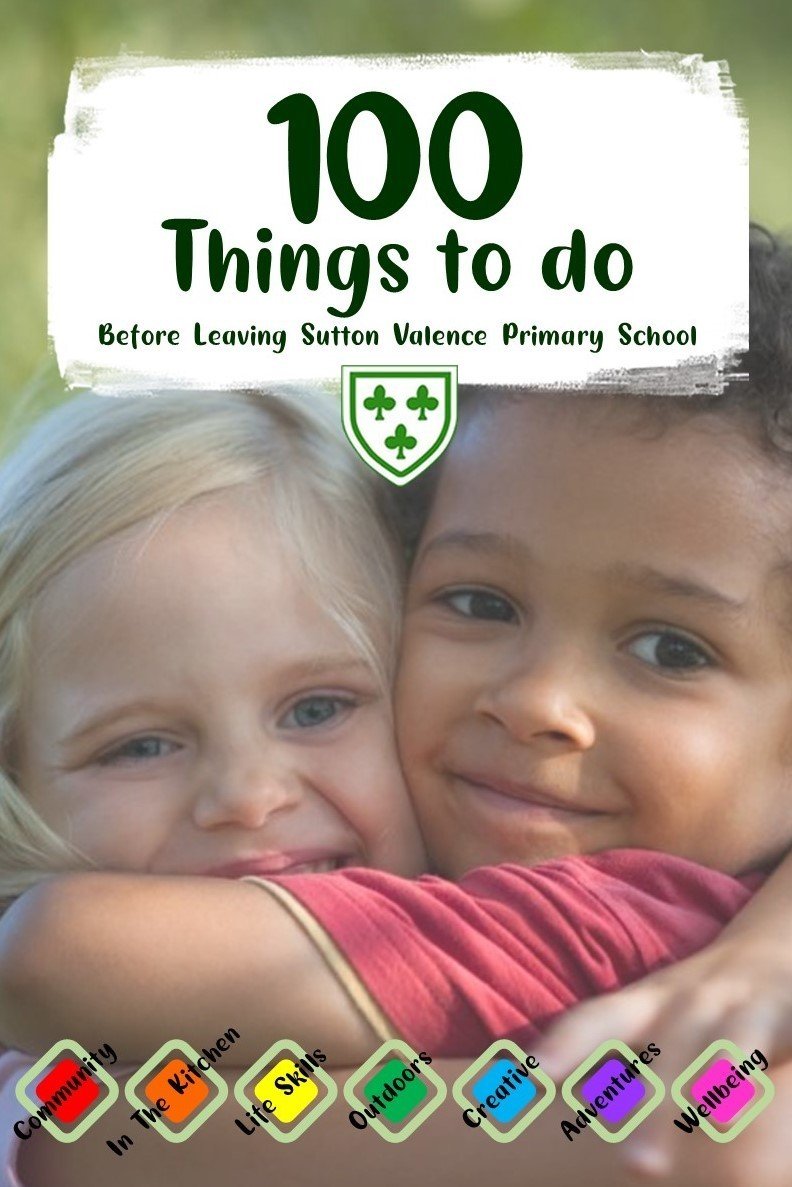 Each time your child completes an activity, send them into school with the booklet they have been issued with so that they can receive a designated sticker from staff. They will also be given a token to place in a special display box located in the main reception area so that we can, as a school community, all view, share, and celebrate each and every child's achievement and progress. There are also designated scrapbook pages at the end of each section for your child to draw, stick or write mementos and souvenirs at every stage of their journey. This booklet will also be a fantastic keepsake in years to come.
We hope you will be as excited about this initiative as we are in school, and that you will support your child in completing the 100 challenges within the booklet.
If it's hard, keep going… if it's easy, challenge yourself and make it harder!
Term 5 Challenge
Grow a Sunflower
Stretch up and reach for the sun with super sunflowers!
They're attractive, easy to grow, bees and insects love them and their seeds make great food for birds. What amazingly colourful, wildlife-friendly flowers they are.

If you're the competitive type, challenge your family and friends to see who can grow the tallest sunflower!
If you don't have a garden, don't worry. Sunflowers can be grown in pots if you have a nice bright and sunny indoor space to put them. Alternatively, do it with friends and family and use their garden as a home for your sunflower, or even ask your teacher if your whole class can do it for your school grounds or garden.
How to grow
Sunflowers can be sown straight in to the ground where they are going to flower, so make sure the space you are going to sow is weed free, by using a trowel to remove the weeds.

Rake the soil to a fine tilth (a fine crumbly texture) and make some drills 12mm deep. Leave a 10cm space between each seed.

Place the seed in carefully and cover them up with soil. Don't forget to water the seeds gently. As they grow, if the plants are crowded, then thin them out to about 45cm apart leaving the strongest, tallest plants.

Be careful, as slugs and snails like to eat the new shoots. You may like to protect the seedlings by cutting the top off a plastic bottle and placing it over your seedlings.

As your sunflower begins to grow taller than you, you will need to help support the stem, by placing a cane near the stem and loosely tying the cane to the plant with string.

In dry weather, give your plant a good watering.

Watch your sunflower grow and grow and grow.
Send in a picture or keep a diary measuring your sunflower as it grows.