Big Garden Birdwatch 2022
Our school is going to be participating in Big Garden Birdwatch again this year - please do encourage your child(ren) to take part. All they need to do is spend one hour between Friday 28th and Sunday 30th of January counting the birds they see in the garden, local park or from your balcony and record what they see. It couldn't be simpler to take part!
Big Garden Birdwatch aims to provide a snapshot in time of how garden birds are doing across the UK. It is held each year at a similar time so that results can be compared year after year, and is done in winter as this is when garden birds need us most. If the weather is really cold it is likely more birds will come into our gardens looking for both shelter and food.
There is a printable guide available for viewing at www.rspb.org.uk/birdwatch should you wish to use this to help you identify any birds you spot. Within the guide is a form that you can use to return your results to Birdwatch if preferred. However, it is best to return results online where at all possible as this saves on paper and postage! Paper results must be retuned by 15th February and online results can be submitted up until 20th February to ensure that your results are included in this year's count. If your child would like to share photos of any birds that they spot, you are welcome to email these to the school office and they will be placed here for all to see!
Happy bird watching!
Fundraiser for National 999 Cenotaph
On Friday 3rd December we held a fundraising event in school to raise money for the cenotaph that will represent those workers in the Emergency Services that have died during the Covid pandemic. Our pupils were invited to dress up as a member of the emergency services for the day, or to make a wear a hat to represent the service that they have chosen to be, in return for a donation of £1 towards the cenotaph.
Here are some photos of the children taking part in this very special fundraising event:
Our school raised a total of £116 towards the cenotaph campaign to honour our 999 and NHS heroes. Well done to all who took part!
Odd Socks Day and Anti-Bullying Week 2021
On Monday 15th November, both staff and pupils came to school wearing odd socks to celebrate the start of Anti-Bullying Week. Odd Socks Day was officially created in 2017 and is a great way to celebrate what makes us all unique.
We held assemblies for each key stage and considered how we celebrate being different. In their classes, the children explored how special and unique each of us all are and how we all bring our own qualities to our class teams.
Here are some photos of the children wearing their odd socks!
One Kind Word
This year the theme for Anti-Bullying Week is 'One Kind Word'. Throughout the week, each of our classes have explored kindness and the impact of words and, to emphasise the importance and effect that kind words can have, have created a 'Kind Word' display. This was all connected to the official 'One Kind Word' song released this year for Anti-Bullying Week by Andy and the Odd Socks gang - please do listen to this at home with your child via the following link:
https://www.youtube.com/watch?v=lpZ3u5Z6pOg
Here are photos of each year groups' kindness displays:
Children In Need 2021
Children In Need is the BBC's charity whose mission is to help ensure every child in the UK is safe, happy, secure and has the opportunities to reach their potential. Children In Need raises money all year round which is put to work where it's needed most; to remove the barriers that are facing children and young people in order that they can thrive. Each year the charity runs a special November appeal to raise money to fund over 2,500 local charities and projects which directly support children and young people in communities across the whole of the UK. Recent research shows that the past 18 months have had a huge impact on the UK's children and young people; it has therefore never been more important to support this amazing charity with fundraising efforts that help to enable them to continue to maintain life-changing projects and crucial services, thus bringing positive changes the lives of the children and young people that are most in need of support.
Our School Council members unanimously voted to support Children In Need again this year and so, on Friday 19th November, the children came in dressed in yellow and spots to raised money for this charity's great work. Pupils looked fantastic and really got into the spirit of the day! We also raised money by selling Mrs Cooper's scrumptious Pudsey Muffins which have made the school smell delicious all day!
Finally, pupils also had the opportunity to participate in a Children In Need spotty drawing competition and I am delighted to announce that the winners from each year group were:
Year R - Coral Year 1 - Maisie Year 2 - Amelia Year 3 - Freya Year 4 - Ronnie Year 5 - Josie Year 6 - Grace
Thank you to all for supporting our fundraising efforts this year. Every pound popped into an envelope will help to change lives and has enabled our school to raise an incredible £578.50 this year, all of which will now be put to work ensuring that every young person has access to the opportunities they deserve.
Red Nose Day, March 2021
In school we have seen an amazing show of skills across all year groups today as the children participated in "bring a talent to school" day with great enthusiasm in order to raise funds for Comic Relief.
Year R: Year R had a lovely day celebrating Red Nose Day and learning about why we raise money for Comic Relief. We watched a video about a little boy called Ethan who has cerebral palsy and he shared all the things he loved to do but had difficulty doing. We learned about the challenges he faces and how he has been helped by the funds raised by Red Nose Day activities. We had a class discussion and created posters about the things we enjoy doing.
We spent the afternoon sharing our talents with each other and learning new skills. Together we shared our dancing skills by all joining in with our favourite dance. Please check out the Year R class page for the video! Go Team Explorers! - Miss Coleman, class teacher.
Year 1: Year 1 had a great Red Nose Day today! We started the day by doing the Red Nose dance to a Harry Styles song! We watched Billy Munger's video and saw how determined he was to move on his new legs and how difficult he found it at times. We took time to talk about our bodies and to appreciate how fortunate we are.
Year 1 pupils also had a wide variety of talents to share and there were some interesting jokes which had many children enjoying a good laugh. Some children surprised us and pulled funny faces and we enjoyed these too! Others demonstrated art and games skills which captivated the children as they waited to see how the picture or game would develop. Many of the children showed skills in football, roller skating, heelies, skipping, fitness and gymnastics. They are all so talented and I enjoyed every minute! - Mrs van Rensburg, class teacher.
Year 2: Year 2 have some very Nosey photos for you to see! - Miss Tracey, class teacher.
Year 3: Year 3 loved sharing their skills and talents this afternoon to demonstrate what they bring to Team Dragons. We are was amazed by the range of talents we have in the class - dancing , skipping, speaking Arabic, swimming, drawing, fishing, Lego, roller skating, King Fu and even a skilled knowledge of planes! A big well done to them all, we loved finding out these new skills that the children have amongst them - Mrs Peach, class teacher.
Year 4: Year 4 shared a variety of talents that exist in Neptune Class. We have been entertained by dancers, pianists, singers and impressionists! We have also been impressed by artistry, football, hula-hooping, gymnastics and roller skating skills. We even took part in a masterclass in tactics for playing chess! What a diverse range of talents! - Mrs Parsons, class teacher.
Year 5: The children in Year 5 had a lovely time showing off their talents today. I am really impressed with the range of skills we saw! There was piano and guitar playing, football, art, running, embroidery, computing, tennis, dancing, gymnastics, roller skating, skipping, dinosaur facts and chess. Well done to everyone who took part! - Miss Bryant, class teacher.
Year 6: We have had a range of talent in Year 6 today where children have enjoyed sharing their skills with others. Well done to those children who took part, showing talents such as singing and dancing, completing a Rubik's Cube, piano playing, ukulele playing, balancing on a pogo stick, football, hula hooping and guitar playing - Mrs Tye, class teacher.
Mrs Cooper has also been incredibly busy over the last two days baking and decorating 422 cupcakes which were pre-ordered by pupils and their families to raise additional funds! Through the sale of red noses, the selling of these delicious cupcakes and general donations for Comic Relief we have raised £590.84 which is fantastic! This has also just slightly smashed our fundraising record for Comic Relief, set back in March 2019, where we raised £581.92.
Comic Relief is a British charity organisation which was founded in the UK in 1985. Did you know that since it began, initially based on the idea of using comedy to raise funds for charity, over £1 billion has been raised in total and this amazing charity has helped to support 105.6 million people? Comic Relief continues to make a real difference to the lives of millions of people across the UK and around the world. Thank you for your continued support fundraising for this worthwhile charity.
Red Nose Day, March 2021
In school we have seen an amazing show of skills across all year groups today as the children participated in "bring a talent to school" day with great enthusiasm.
Year R: Year R had a lovely day celebrating Red Nose Day and learning about why we raise money for Comic Relief. We watched a video about a little boy called Ethan who has cerebral palsy and he shared all the things he loved to do but had difficulty doing. We learned about the challenges he faces and how he has been helped by the funds raised by Red Nose Day activities. We had a class discussion and created posters about the things we enjoy doing.
We spent the afternoon sharing our talents with each other and learning new skills. Together we shared our dancing skills by all joining in with our favourite dance. Please check out the school website for the video! Go Team Explorers!
World Mental Health Day 2020
As a continuum to strategies already used in the school, on Friday 9th October we took part in World Mental Health Day. Young Minds is a charity that focuses on the mental and emotional wellbeing of children and they organised #helloyellow to encourage all children to come together and feel supported by each other. Our pupils therefore came dressed for school wearing anything yellow to show their support. All year groups completed activities around resilience and showing kindness as a way of making their friends feel happy.
Year R
Children in Year R created superhero masks and became positive superheroes!
Year 1
Children in Year 1 discussed what we do to keep our bodies fit and healthy. We then talked about healthy minds (brains) and that we need good nutrition and hydration, sleep and exercise. As a class we also talked about what makes us muddled up and confused or angry, and how can we help our minds to be calm and clear our thoughts such as relaxation and mindfulness, yoga, listening to music in our bedroom, lying down with a book on our bed to name a few ideas.
Year 3
Children in Year 3 explored times that make us have low wellbeing, and things we can say or think to make ourselves feel better. They also created a Wellbeing Tree and each pupil wrote an uplifting phrase on a yellow post-it note and stuck it on a branch of the tree. This tree will be used moving forwards to help pupils feel better if they are finding things hard.
As a school our consistent focus on mental health remains a priority moving forwards. We are committed to ensuring the physical and emotional welfare of each and every pupil to ensure that they are safe, happy, involved and able to perform to their potential.
Talking Buses Trip to Hop Farm
One Wednesday 4th March, selected pupils from Year 2 took part in the Talking Buses initiative which is run by the Arriva bus service. Inspiration for this project came from the television programme in which four year olds visited a nursing home to interact with the elderly, which went on to be a great success. Whilst on the bus the children had the opportunity to talk to the elderly people about their lives and what they were looking forward to at the Hop Farm. Both groups of people had a fabulous time talking to each other and had a lovely time interacting at the Hop Farm. We could not be more proud of the Year 2 pupils for their positive and confident behaviour throughout the day, and hope to maintain the relationship between Arriva, the West Kent Befriending Service and our school.
You can also view KMTV video footage of the Year 2 pupils taking part in this fabulous day by clicking on this link: https://www.kentonline.co.uk/kmtv/video/arriva-launches-service-in-maidstone-to-tackle-loneliness-30550/
Author Visit from Poet, Tony Peek
On Monday 3rd March, we were very all very excited to welcome writer and poet Tony Peek to the school for an assembly followed by individual class workshops. Inspiring learners through poetry and fun, Mr Peek's Poetry workshops take children on a magical journey and inspire creativity through fun, games and thinking.
Tony worked as an English teacher for 15 years before finding his true calling after being asked to speak about his poetry at one of his own children's primary schools. Immediately afterwards, he resigned from teaching and began working fulltime as a poet and poetry workshop provider. Tony's workshops introduce pupils to poetry in a fun and engaging way; Mr Peek performed poems and, together with the children, played word games, practiced rhyming and gave children an appreciation of poetry and words in general. Some pupils are also given the opportunity to write a poem of their own and to share their work with their peers.
We were so pleased to welcome Tony to our school, thank you so much for coming to see us all.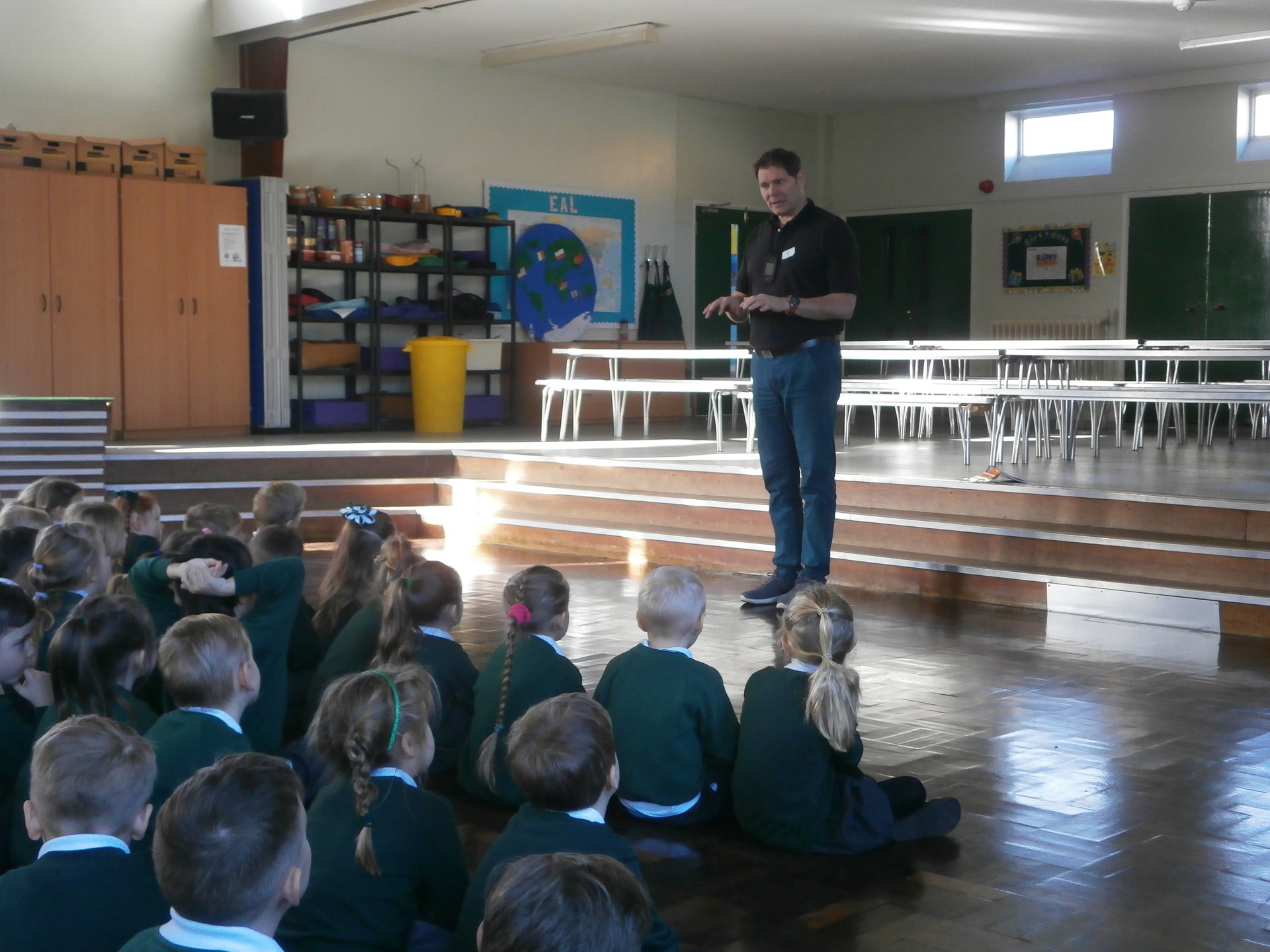 Year 3 Visit to Go Ape at Leeds Castle
A huge thank you to Go Ape at Leeds Castle, and all the staff, for the wonderful opportunity given to Year 3 to spend an afternoon there on Friday 14th February, which was the last day of Term 3 and a fantastic way to end the end. All of the children had fun and challenged themselves by taking part in the new Treetop Adventure course. It was truly wonderful to see how everyone joined in and encouraged each other to have a go. Thank you also to the parents and carers who supported this outing by transporting their children to the venue, and to those parents who were also willing to support the children up in the trees as well as on the ground.
Music Composition Workshop with Alfabeto Runico
On Wednesday 5th February our school was given the amazing opportunity to play host to Alfabeto Runico, an Italian string trio who released their debut album in March 2018 to great exclaim. The trio are Marta, Nicola and Andrea, who fuse traditional Italian music, classical, jazz, reggae and pop to create an exciting kaleidoscope of sound and feeling. These artists have extensive classical training and a fresh innovative style, and together they produce new arrangements of ancient songs and write their own original compositions with a unique combination of two double basses, violin/viola and voice.
The whole school enjoyed an assembly at the beginning of the day, followed by a workshop attended by a selection of pupils from Years 2 through to 5. The goal was to compose a complete piece of music, working with harmony, rhyme and rhythm to bring to life a musical arrangement. The children explored the paths of creativity and playing together, using both sound and physical expression. They also used some of the junk instruments they had made at the home over the Christmas holidays! A small concert was performed at the end of the day.
All children had a fantastic time with Alfabeto Runico, whether they watched the performance or joined in with the workshop:
"I enjoyed everyone standing in a circle and then we could go into the middle to perform something. I did the floss." - Sid, Year 2
"I liked the end bit when they played their own instruments to us." - Noah, Year 2
"I really enjoyed how we did activities in groups and then worked together at the end." - Maea, Year 5
"I enjoyed it because we all got together to play music as a group." - Olivia, Year 3
Thank you Alfabeto Runico - to Marta, Nicola and Andrea - for coming to our school to play and perform to/with us and for sharing your amazing musical talent with all pupils from our school. We were all very inspired!
Junk Orchestra Workshop
On Friday 6th December, we were visited by The Junk Orchestra, an amazing collection of recycled objects, rescued and reinvented from all sorts of places, and who both relish and encourage the opportunity to upcycle and express ourselves through a combination of art and music.
The children had an amazing time taking part in a junk orchestra workshop. They thoroughly enjoyed experimenting with various types of percussion, wind and string instruments made from everyday objects that have been recycled and transformed, conducted in bands to play urban rhythms from around the world! The sound was amazing although with the Headteacher's office right next to the school hall, little work got done!
Due to the success of today's activities, we have decided to form our very own school junk orchestra! We have challenged every pupil to make an instrument from recycled materials over the Christmas holidays and will look to set up sessions for our junk orchestra to take place in the New Year. Instruments are to be made out of anything from an empty Quality Street tin to a large water bottle or some pipe insulation! The task is to inspire children's' imaginations and create an instrument they can bring to our new school orchestra in January!
The Junk Orchestra workshop was paid for by the PTFA (you!) as a result of the many successful fundraising events that have already taken place this academic year. Thank you.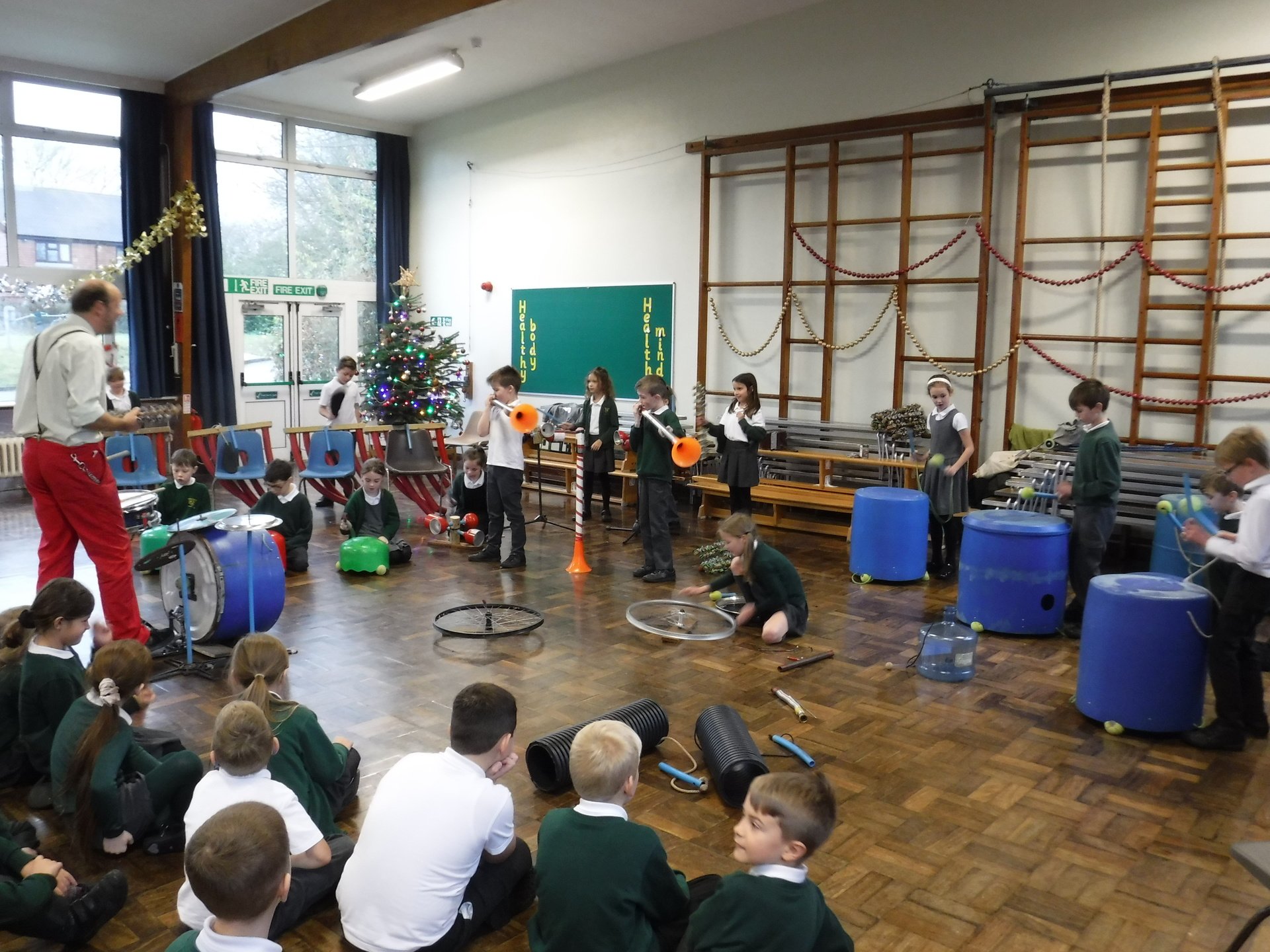 Children In Need 2019
On Friday 15th November, our school chose to support Children In Need with a non-school uniform day to raise money for this amazing charity which runs projects all across the country to help change the lives of disadvantaged children and young people. We also held a cake sale after school in the hall, where Mrs Cooper's delicious cupcakes were sold to parents, carers and children of the school. Throughout the whole day, we managed to raise an amazing £389.74 and every penny of this will be donated directly to Children In Need. Thank you to everyone who contributed in some way.
Anti-Bullying Anthem Music Workshop
On the 6th November we were delighted to welcome Nathan Timothy for a workshop to produce an Anti-Bullying Anthem for our school. Nathan is the founder of The Nathan Timothy Foundation "The Songwriting Charity", which is dedicated to the empowerment of young people through the art and craft of songwriting and addresses the emotional health and wellbeing of children using songwriting and music technology. Each workshop is bespoke, and unique to the children involved, presenting children with opportunities to sing, write lyrics, perform and record their ideas both individually and as a team - evaluating their progress and actively supporting the progress of their peers every step of the way. More information about amazing work of The Nathan Timothy Foundation, which was formed in July 2011, can be found on their website www.nathantimothyfoundation.org
Six children from each class in KS2 participated in the workshop with Nathan, which began with Nathan telling them about his exciting life and how much he gets paid each and every time one of the songs he has written gets played on the radio or online... it was not nearly as much as the children anticipated, and he definitely hasn't made his millions from it! We when went on to talk about bullying as a whole group and Nathan wrote all the words on the board that the children came up with during the discussion. He went on to ask three children to pick from the letters A, B, C, D and E - those children selected A, C and E, and they became the three main chords used in the song!
The children were divided into four groups in order to brainstorm ideas and start writing their anti-bulling anthem. Everyone played a part and got involved in one way or another. Three boys were tapping their pencils on the desk to give themselves a beat to keep in time with, and this was recorded and included in the song too! Some of the children played chords for the background of the recording. Each group in turn was recorded singing their part of the song, which Nathan then put together and a created an amazing masterpiece!
After lunch, the children also designed the CD and cover, one of which was selected to feature on iTunes!
All of the pupils had such a fantastic time with Nathan, and our school was so lucky to have this incredibly amazing experience. The children of Sutton Valence Primary School have achieved the writing of their very won anti-bullying song that can be played to an international audience. Thank you Nathan, for providing us with this superb and memorable experience.
You can listen to the children of Sutton Valence Primary School's Anti Bullying/Kindness Anthem here.
You can also download a copy of the song lyrics here.
Feedback from the children who participated:
"I really enjoyed the music workshop because I think it inspired lots of people to be songwriters" - Dylan
"It was interesting to learn how the instruments Nathan had worked and how he uses them in his songs" - Leena
"I really enjoyed it because it was about anti-bullying and we had to work as a team" - Poppie
"I found the workshop helpful because it helped me to build up my confidence when singing or talking in front of others" - Jack
"I loved this workshop and it has inspired me to write my own songs at home" - Yasmina
"Creating the anti-bullying song was fun because we got to use a professional microphone. We also got to create beats, lyrics and melodies. My group and I created the lyrics for the chorus and it was so much fun. I will definitely be writing songs from now on because of this workshop" - Louis
"I really enjoyed this workshop and it was very eye-opening. My favourite part was when we tried all the different ways of putting the song together - we kept changing different parts to make it better" - Shayleigh
"I liked it when we got into our groups and started writing down all of our ideas for the song" - Molly
Year 1 and 2 Up-cycling Workshop
On the 24th September we welcomed Phillip Hunton to our school for a series of up-cycling workshops. Year 1 and 2 took part in a Litter Fish workshop they, through an interactive presentation, explored the issues of litter in the UK and examined single use plastics and their alternatives. Did you know that 62% of people in England drop litter, although only 28% will admit to it? Clearing it all up costs £1 billion each year in England alone!
Each of our Year 1 and 2 pupils then decorated a cork fish with colourful recycled scales to educate them in the problem of litter in our local surroundings. We can all play a part in supporting a beautiful and healthy natural environment.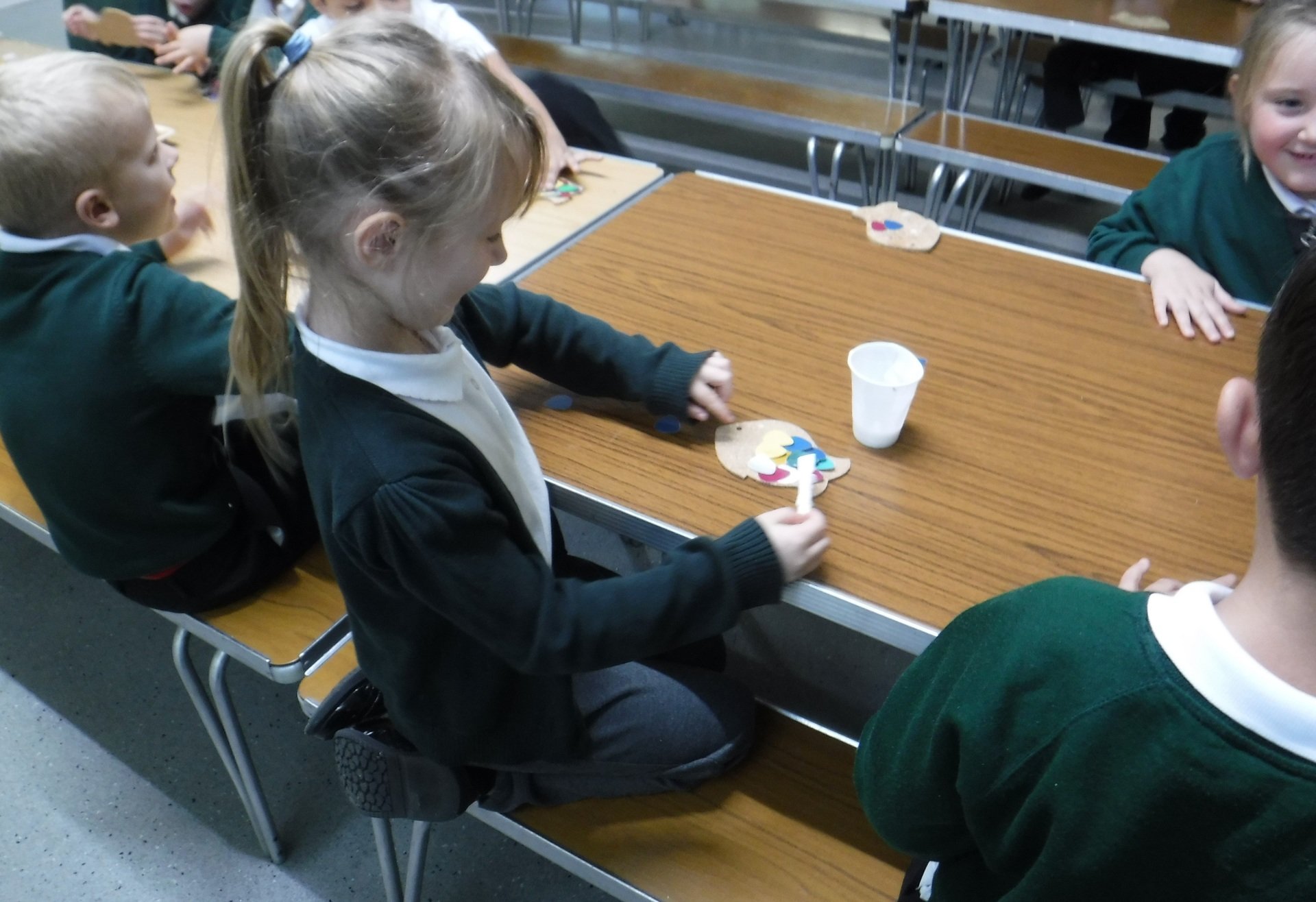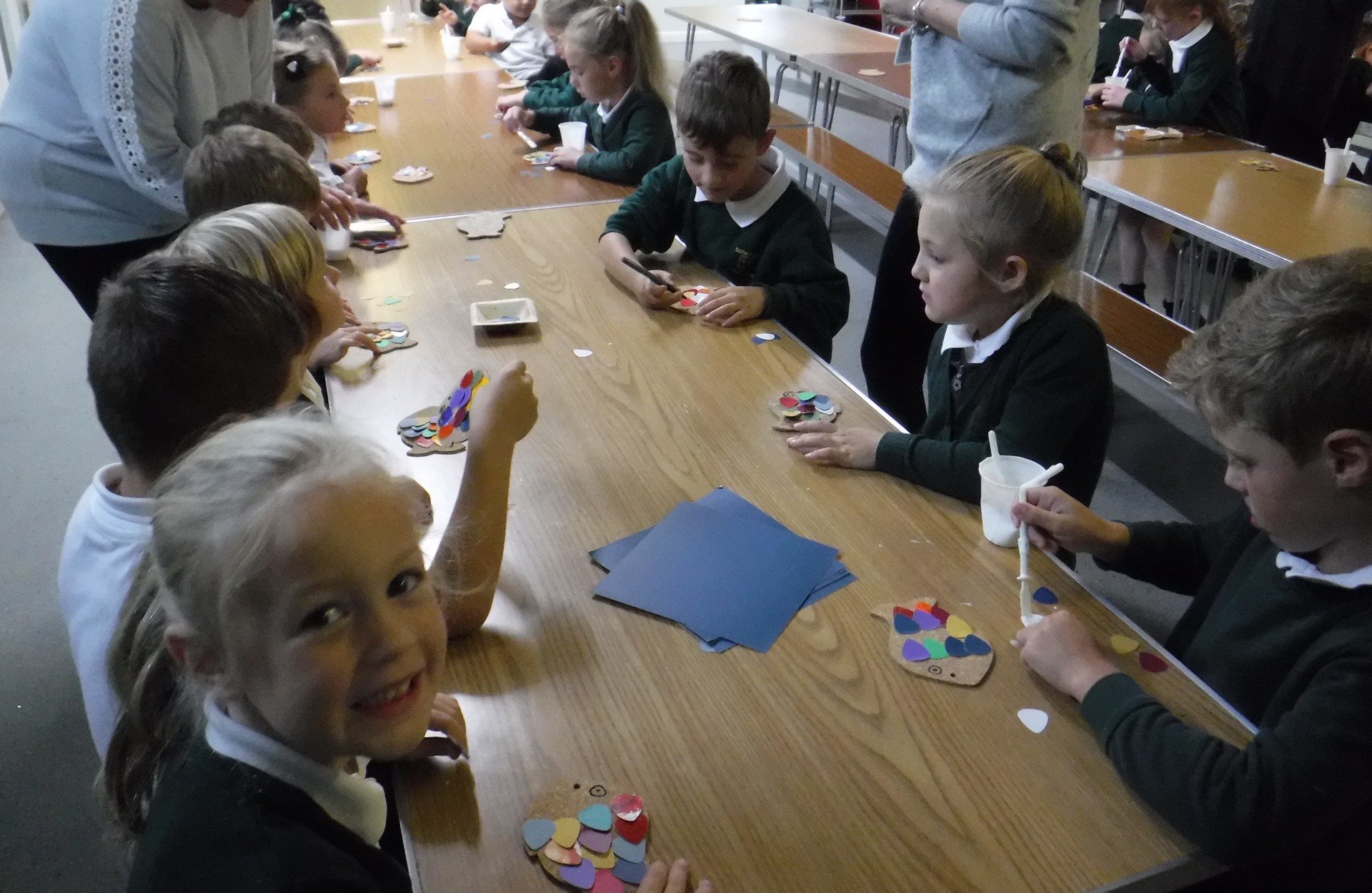 Welcome Back Camping
On the weekend of 14th/15th September our school held a Welcome Back camping event, organised by our ever-fabulous and dedicated PTFA. The weather was glorious and turnout was excellent - almost double that of last year when we held this event for the very first time. Fun was had by children and adults alike, and the children took part in games and craft activities, including making their very own kite. There was a BBQ, licenced bar, cakes and biscuits, hot drinks and more, and both children and adults enjoyed the beautiful weather and the opportunity to relax and spend time with their families.
Staff would like to say a huge thank you to the PTFA for their hard work, and for making this event an enormous success once again. Their unwavering dedication to top-quality school events is both recognised and appreciated.
If anyone has any photos from the day, please do send them for the attention of Mrs Jack in the school office.