Welcome to Year 5 Squirrel class
Mrs van Rensburg is your Teacher and
Mrs Tolliday is your Teaching Assistant.
Welcome to Squirrel class.
A water bottle is essential everyday.
A glorious spring day for a Royal Picnic to commemorate the wedding of Prince Harry and Meghan Markle.
An enjoyable picnic, where the children could sit on the field and enjoy delicious lunches and chat to their friends. It was a great lunch time and possibly will be repeated again in the summer term.
The children enjoyed a Royal Wedding picnic celebration and ended it off with a delicious cupcake. Thank you to the Woodland Hatch for these treats.
A3 Information sheet on your mini creature is due on
Monday 14th May.
We will be looking at pollination of flowers on Wednesday 16th May. If you have a flower in your garden and would like to bring it to school for us to investigate. Please ask your parents if it is alright to pick this flower.
Remember RED WHITE and BLUE clothing for our picnic on Friday. Remember to decide if you are having a special school picnic lunch (order in class) or are you bringing in your own. I f you have a picnic blanket or large old towel please bring it in so that we all can sit comfortably and enjoy our lunch.
Summer Term 5
Beast Creator
Can you become a "Beast Creator" and breed a killer
predator that saves the world
from the super-strong aphid?
You'll be a hero!
A bug, a creepy-crawly, a beast! He'll tickle your skin then go in for the sting!
Arachnids, invertebrates, molluscs and myriapods, hiding in nooks and beneath darkened rocks....
Come and search for these minibeasts, and let's sort them out!
How many legs? How many wings?
Who does it eat and who eats it?
Can you classify it?
Can you draw it or make it?
Observe bugs and worms in their habitats.
SWIMMING in Term 5
Year 5 will be swimming every Wednesday as from the 18th April 2018
Girls will require a one piece swimming costume and a swimming cap.
Boys will require a pair of fitting swimming trunks.
Please make sure you have a towel and that all items are in a waterproof bag as these will be going home wet!
Please bring a photo to school of you having fun in the snow so that we can complete our snow days book.
BOOK FAIR 19th MARCH TO 22nd MARCH.
Bring your World book day voucher along and get your £1.00 discount off any book.
There is still time to take your voucher to WHS or Waterstones and claim your FREE book.
( Vouchers expire on the 24th March 2018)
SKIP 2B FIT Workshop
This was a fun filled skipping activity where the pupils learnt so much about how to skip by focusing , having determination, perseverance, developing fitness and blueberries as a healthy snack.
Skipping ropes are available for the next 2 weeks from the office.
at £5 each.
These ropes have a counter which makes scoring so to much easier.
We are looking for a parent score to challenge school staff scores.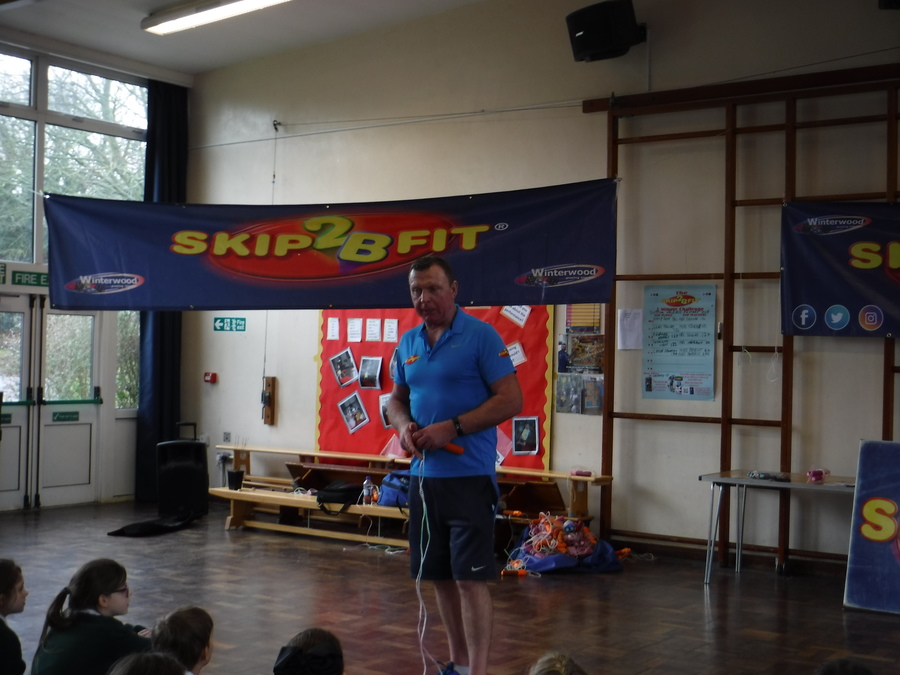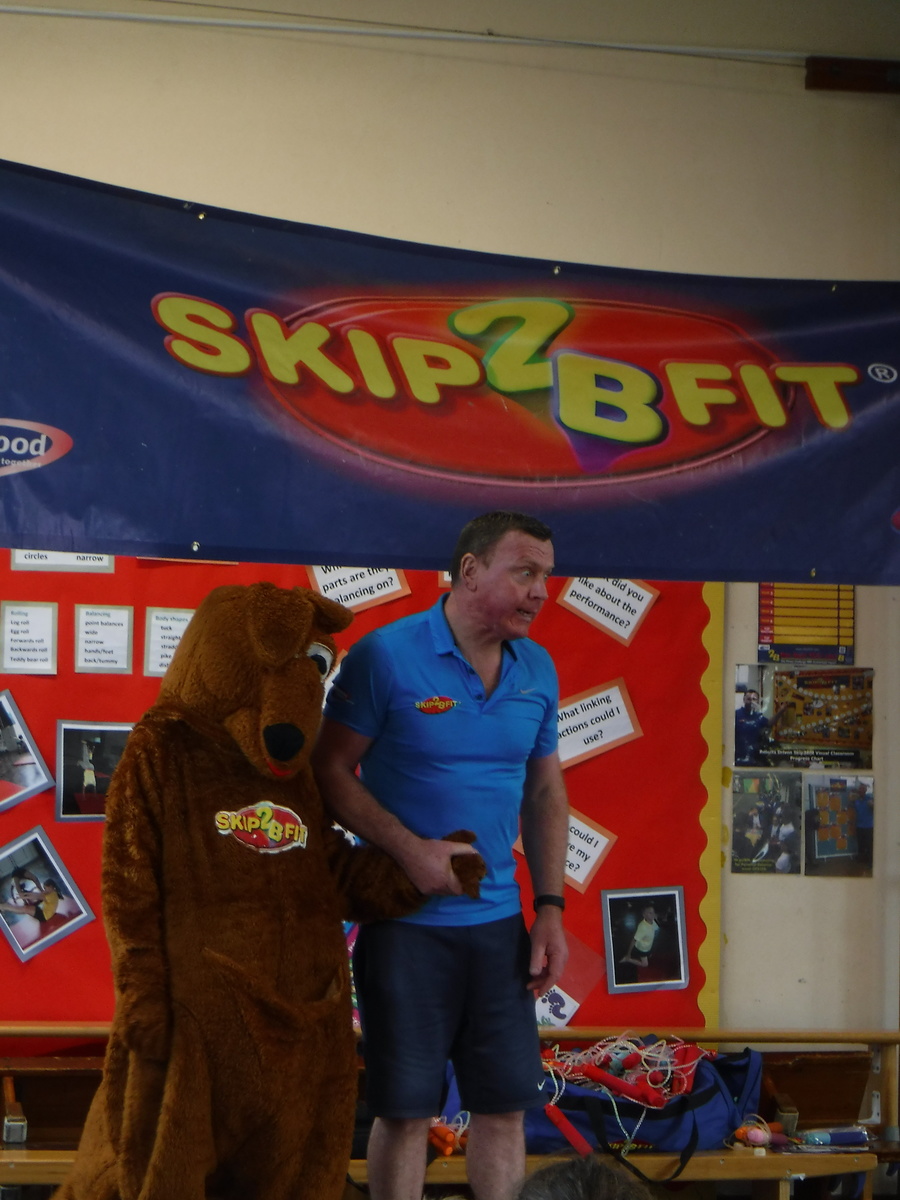 Skippy and John at the winners certificate assembly.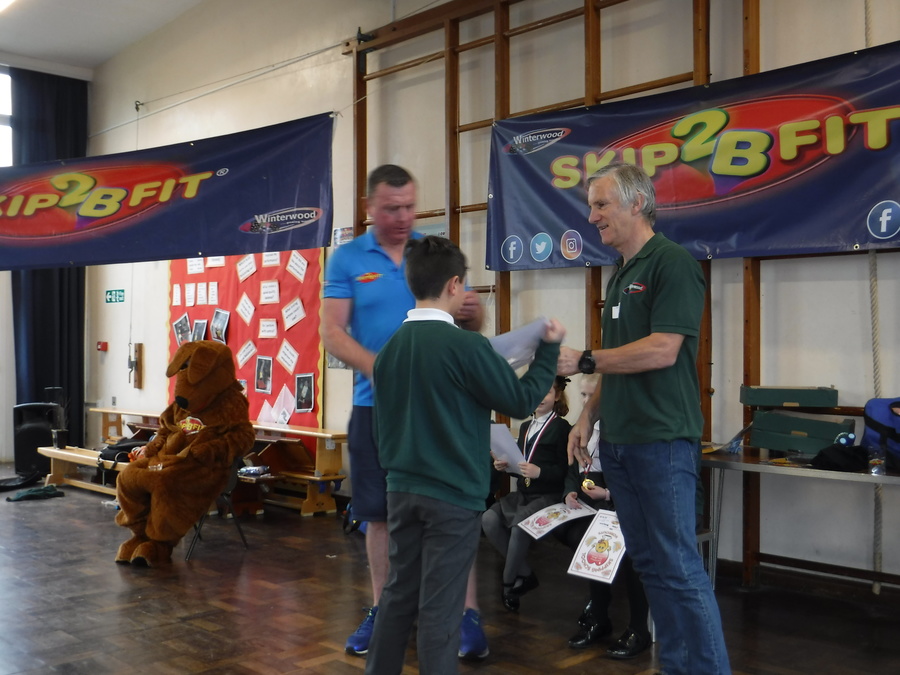 Well done to Sufyan who was the year 5 winner with 197 skips in 2 minutes.
Year 5's now have a challenge to beat their personal score from today .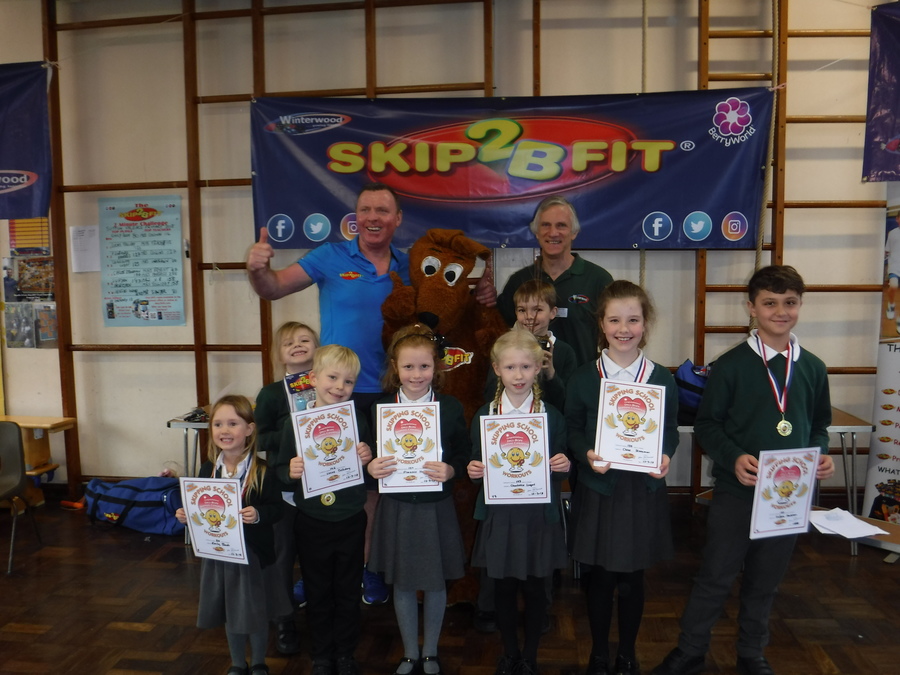 Our winners from the day. A big thank you to Steve from Winterwood farms who sponsored the workshop and a large bag containing 50 skipping ropes for us to use at school to develop our mindset and skills.
School story competition
Hand in 15th March 2018
Year 5 and 6
Write a story on any subject or theme of your choice. There will only be one winner out of the two year groups. The winner will get a £5.00 voucher to use at the book fair. You can type your story or write it by hand. You won't be judged on the length of the story, but on its quality.​
Term 4
We will continue with our theme from last term.
SNOW DAYS
I hope that you have all enjoyed your two days at home and have spent some time playing and having fun in the snow!
Reminders
Thank you to everyone who has handed in their homework. ( I have received some via the office email) To those of you who have not, I will expect it when school opens after the snow days.
Continue to read your book and get it signed so that you are on track to reach your destination at Easter. If you complete your book this week then fill in the Book Review pages in your Reading Record.
Learn your spellings and create your own sentences using each of your spelling words.
Learn your times table that you are working on. Remember to use the online games to practise these. We will have a 'Beat it' speed test on Friday or Monday.
If you would like to write a diary entry or paragraph about the snow , that would be amazing. I am sure that you have many good descriptive words and phrases as well as some funny stories to tell!
House points and credits are waiting to be earned, so who's up for the challenge of working at home?
Maths activities about perimeter for snow days.
HOMEWORK due 26th February
Castles
Use the map of the UK that has been given to you. Plot 5 or more castles from the Medieval times. Include a fact box for each castle that you have plotted.
OR
Model rat
Make a model of a rat out of papier mache'. (Instructions are available on line or from school.) Paint your rat and take photos of it in a variety of location.
OR
Power point
Create a power point about your learning of this theme: Peasants, Princes and Pestilence.
WEEK BEGINNING 5th FEBRUARY: A BUSY WEEK
MONDAY: Is E-SAFETY day when we look at ways of staying safe when using the internet and social media.
TUESDAY: DRAMA WORKSHOP £6 Dress up in old clothing to look like a peasant from the Middle ages.
WEDNESDAY: GPS Show
THURSDAY: Performance of STREET DANCE in PE. Bring along a hoody, sunglasses or a baseball cap to look the part.
FRIDAY: A DAY OF CELEBRATION FOR A GOOD OFSTED REPORT.
FOR THE CHILDREN IT WILL BE A NON-UNIFORM DAY AND THEY WILL TAKE PART IN A CAROUSAL OF FOUR ACTIVITIES THAT THEY HAVE CHOSEN. (Cooking, forest school, sport, board games, craft, science experiments, computing, dance and team building problems)
CLOSE FOR HALF TERM -- SWEET SALE AFTER SCHOOL.
Spring Term 3
Peasants, Princes and Pestilence
Are you ready for the challenge?
Flee your fields, close your doors and pull up the drawbridge: the dreaded and deathly 'Great Pestilence' is here! Mount your steed and gallop through the dark and deadly world of 14th Century Britain, sword and shield at the ready, pledging your allegiance to king and country!
Rouse your troops with promises of bloody battle and violent jousts. Read and write historical accounts, poems and tales and discover the grotesque effects of bugs and bacteria on the human body.
And if you smell a rat, my friend - get out of there!
Pupil Voice:
I thought it was interesting to hear about the strange cures for the plague, Black Death. Eve
I enjoyed making our class art display, it was such fun. Felix
Our painting looked brilliant and I enjoyed working on it. Millie
Learning street dancing is such fun. I cant wait to perform our dance next week. Natalie
I have learnt how to do a street dance with some break dancing. It is going to be exciting to do our dance next week when we use props. Issy
Our street dance is such fun because we can work as a group and in pairs and plan our own steps. Scarlett.
Click here for this term's newsletter
Our new topic involves Medieval life: castles, knights, peasants and the plague "Black Death".
Homework for the term will be free choice from the ideas given in the document below.
Due date is 22nd January
OUR ART WORK THIS TERM IS BY THE FRENCH ARTIST
GUY BILLOUT WHO IS KNOWN AS AN ILLUSIONIST.
HIS PAINTING IS CALLED "COLLEGE ENTRY." WE HAVE ADAPTED IT TO OUR MEDIEVAL THEME AND CALLED IT CASTLE ENTRY.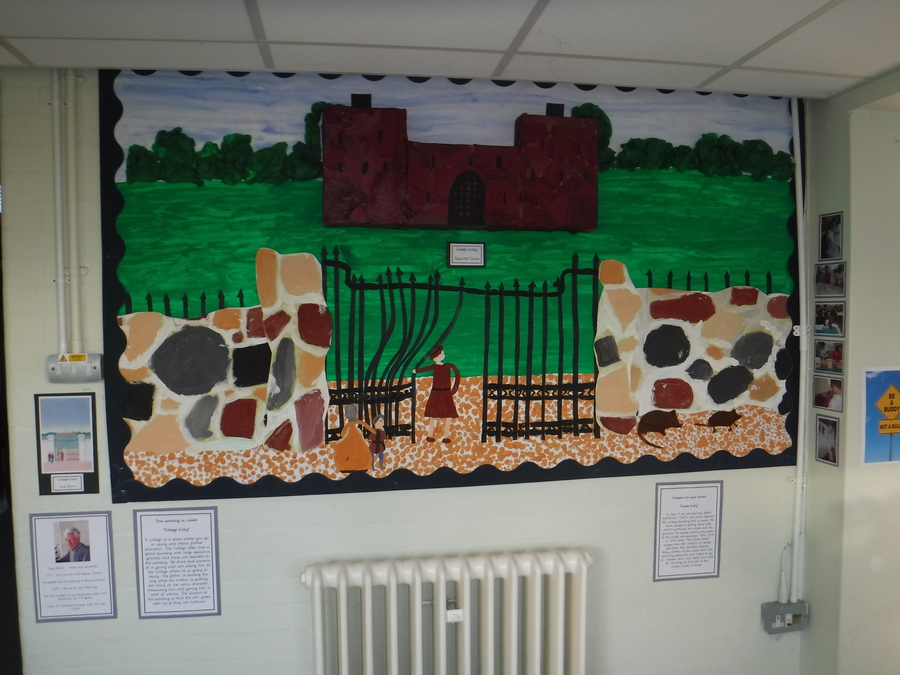 PUPIL VOICE:
12/01/18
I enjoyed Maths this week because I learnt about factors of numbers and that is new to me. -Gabriel
I liked Maths as it was challenging to find multiples and factors of numbers. Fin
Maths was good because I learnt about factors of numbers. Beau
I liked Maths because I was good at finding factors for some even numbers. Shani
i enjoyed Maths because I learnt about factors and that is my times tables. Alfie
In PE we are learning moves to make up a street dance. It was such fun. Keira
I enjoyed PE because I love to dance. I cant wait to learn the whole dance. Jaiden
Reading Challenge
It has been a little disappointing as only 30% of the class reached the target city after term 1 and 2 of the reading challenge.
Please read these holidays and get your reading record signed. You can earn up to 18 steps if you read a few pages everyday. Record all the dates in your record and you will be well on your way. In year 5 we are doubling the steps earned (from 2 to 4) if you bring a fact back to school after the holiday about your next city.
Come along take up the challenge and READ!
ODD SOCKS DAY Thursday 16 November
Year 5 and 6 are wearing odd socks and learning a song to show that we are all different but we can be the same!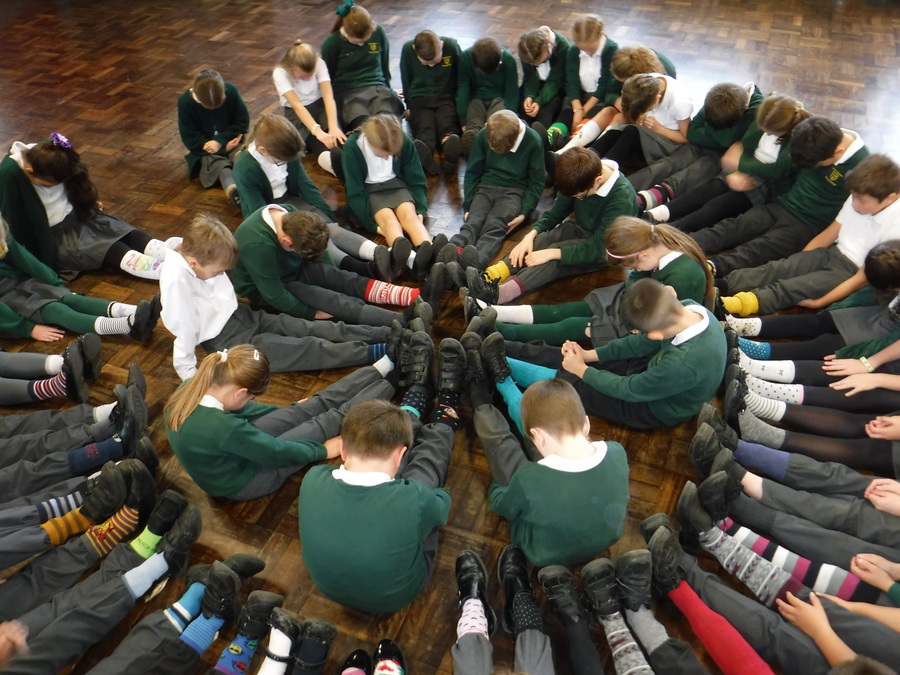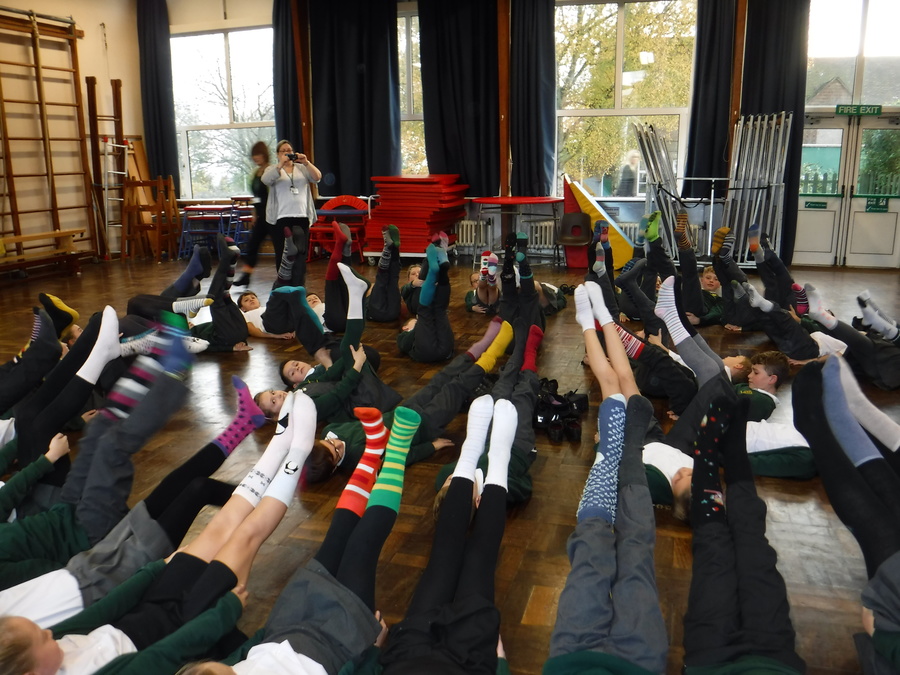 Odd socks in the air! Year 5 and 6 gathered together to sing a song which explained that it was alright to be different and unique. These pictures are of the two classes showing off their odd socks.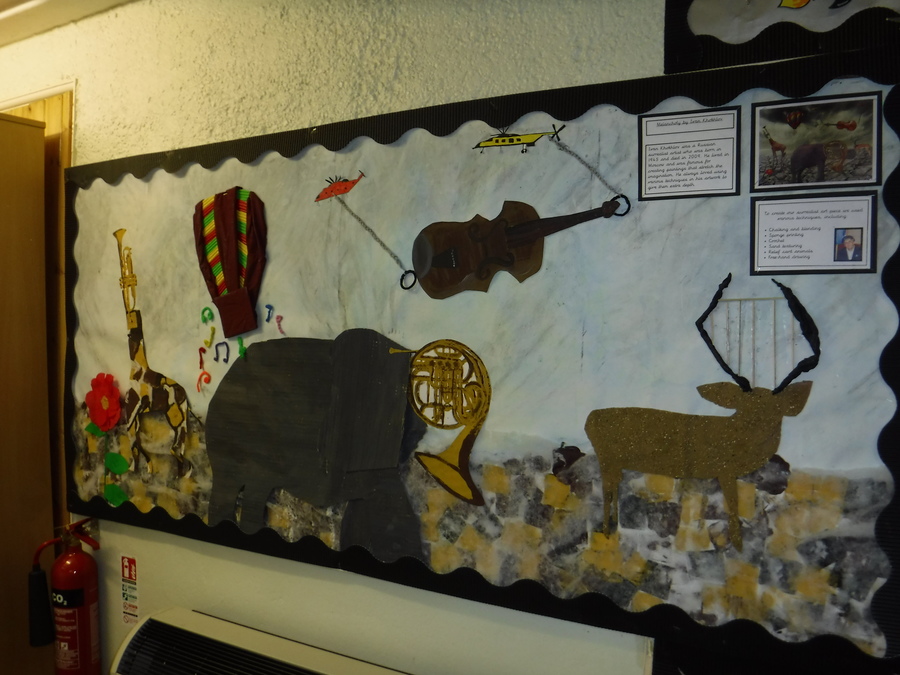 In term 2 we looked at the Russian artist Ivan Khokhlov. The children always enjoy creating these pictures as, in small groups, we spend a day working on the picture together. Today we completed ours and we will be writing about this thought provoking picture over the next few days.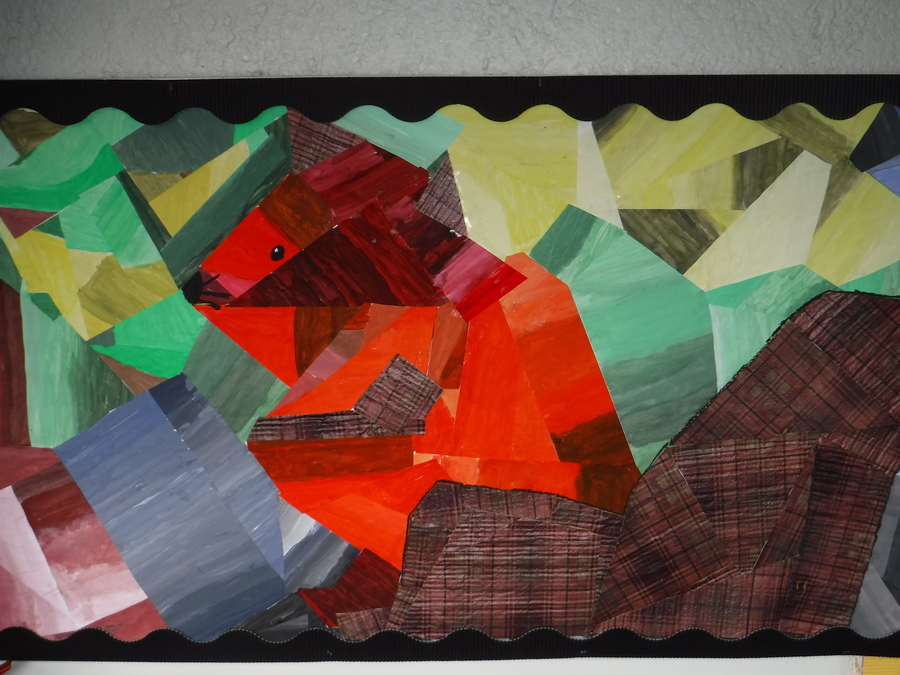 Each term the whole school studies an artist and creates a picture in that particular style. In term 1 we looked at Frans Marc and created a squirrel using the technique of mixing black and white paint to a colour to create shades and tints. We used a variety of patterned and textured papers to create our squirrel.
Term 2 Stargazers
Everyone is very excited to be learning more about space and space travel.
Journey through space, the final frontier….. Navigate beyond the Sun, the magnificent, blazing star at the centre of our Solar system!
Investigate the eight planets – Mercury, Venus, Earth, Mars, Juniper, Saturn, Uranus and Neptune.
Take a look at the Moon, a celestial body that orbits Earth.
Work scientifically to investigate gravity….
And what happens when there is none! Compare the time of day at different places on the Earth and use GPS satellite navigation systems to track hidden treasure!
Get inspired, making simple models of the solar system and listen to the haunting sounds of space-themed songs.
Then it's three, two, one,,, BLAST OFF! Build a rocket for an important test mission. Exploring space is probably the greatest adventure that mankind has ever undertaken. Are we alone or are there other life forms out there?
Are you ready to take on the challenge to find out more?
Reminders for this term: Children in Need 17 November- Bake sale; School trip to the cinema 22 November; Science Centre trip 28 November.
Newsletter for Term 2 theme STARGAZERS Click Here
Homework ideas will be attached to this newsletter. Children are encouraged to do some activities on their own and hand them in to score house points.
Compulsory Homework: Due date Monday 27 November Choose ONE of the following.
Moon Diary – keep a moon diary for 2 weeks (14 days)
Draw the shape of the moon each night and the correct term for each phase.
OR
Star constellations -Do some research on star constellations, draw some diagrams of them and name them.
OR
Tim Peake – create an A4 leaflet about Tim. Who is he? How did he train? What did he do?
Thank you to the mums who came along to see what we had been learning about during the theme Alchemy Island. The science investigations were certainly enjoyed by the children.
PUPIL VOICE: Week ending 3rd November
I thought gymnastics was great because I learnt how to do a forward and backward roll properly. Alfie
We could make up our own sequence of balances, rolls and jumps in gym and that was so good to be able to choose your own. Olivia.
We liked the work we did on the spring board as it helped us improve our new skills in gym. Keira and Millie.
Alchemy Island theme will continue for the first week of next term.
On Friday the 3rd November from 2.15 pm ,
you are invited to come to visit our class to see the work that we have
completed on this topic.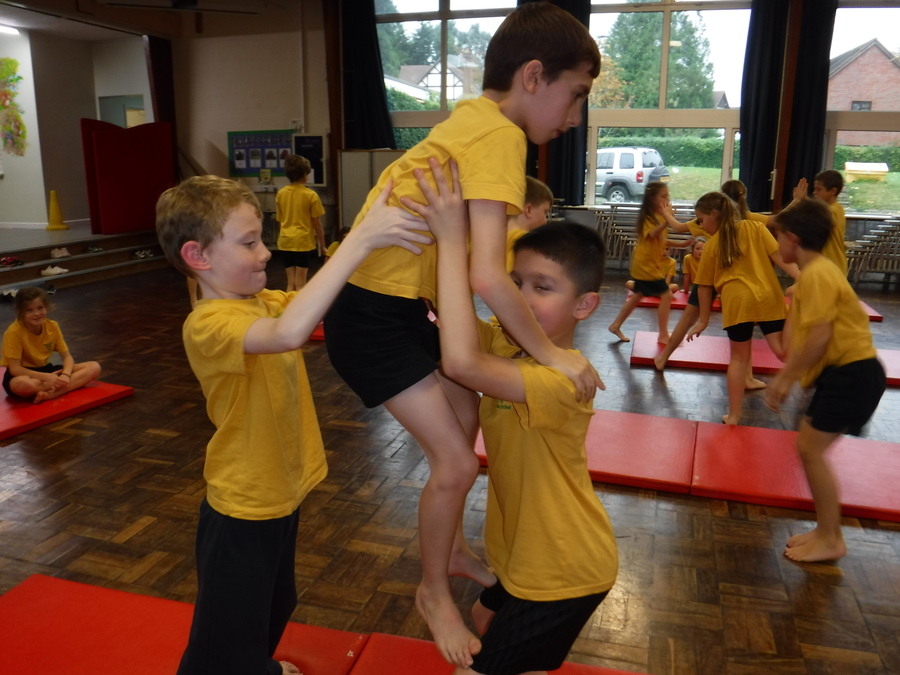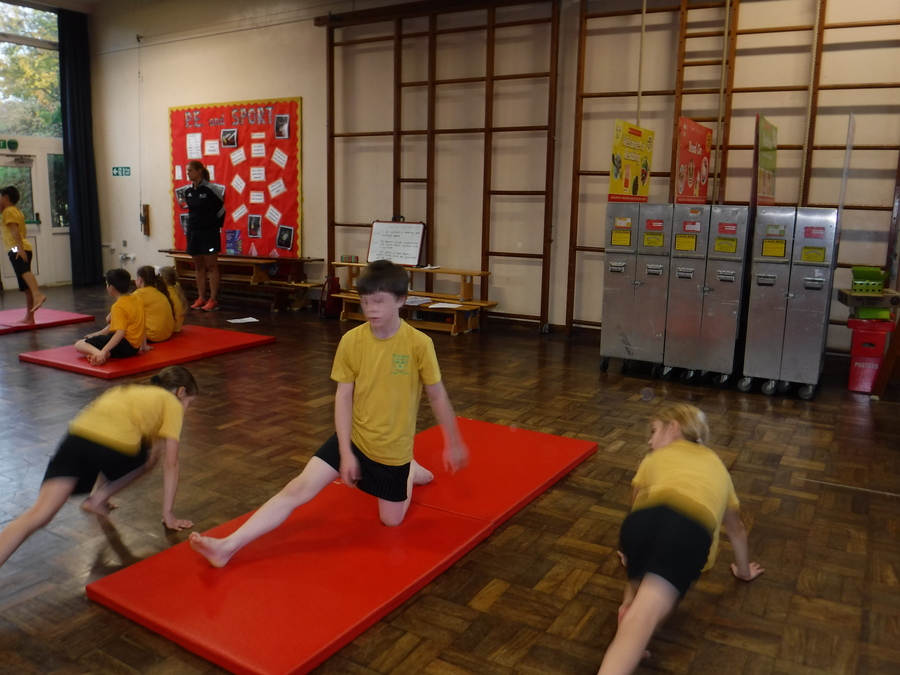 Pupil Voice: 20/10.17
I loved working on the apparatus in gymnastics. Jack A.
PE was best for me because I liked doing all the balances with my partner. Lewis
I enjoyed PE this week because in gym we had to make up a sequence of movements and I especially liked doing the crab. Keira
I loved PE because I was active and it was fun working with my partner. Beau.
Pupil Voice : 13/10/17
The Science investigation this week was such fun because we had to make dirty water clean for the people on Alchemy Island. Lennie
I liked filtering the dirty water to make it cleaner !Matthew
I enjoyed science when I had to filter dirty water and make it clean. It was good because I learnt what are the best filters and I will remember this for the future. Natalie
Trying to make dirty water clean was a lot of fun in science this week. Lexie
It was fun using filters to clean dirty water. Jaiden
I liked using the filters that were made out of different materials to see which one worked the best. Morgan
Finding out what materials are good for filters was fun. Jude
I loved purifying the dirty water using filters of different materials. Testing them showed me what one would be the best to use. Olivia
Pupil Voice: 6/10/17
I loved having my grandma at school because she could work with me Ellie
I enjoyed drawing my Frans Marc picture with my grandma. Edward
I liked having my granddad at school because we shared learning with each other. Eve
I liked grand parents day because they told us things about school in their days and that made us laugh. Luis
I liked grand parents day as we could draw with them and listen to them tell us things about school long ago. Alfie
I loved doing my Frans Marc drawing of an animal and then the shapes around it. It was fun. Felix
I enjoyed having grand parents at school and I loved writing about my journey across Alchemy Island.
GRANDPARENTS DAY
It was wonderful to see so many grandparents visit our class on Friday. It was great to see grandparents interacting with the children. Many questions were asked about schooling long ago, and children were surprised by some of the answers they heard. I know that the day was enjoyed by everyone.
Homework task due by Wednesday 27th September as map was not loaded successfully last week.
After looking at the map of Alchemy Island describe in about 10 sentences where you would like to live on the island.
OR
Draw a picture of the place on the map where you would like to live. You will then describe this orally to the class next week.
Pupil Voice: 8/9/17
I enjoyed this week because when we did English I got to write my summer holidays and that was good. Keiron
Year 5 is my favourite year so far! Evie
Meet the teacher is on Monday 18th September at 3.20pm.
It would be very beneficial if as many of you as possible could attend this as I give details as to what is expected in year 5.
8/09/2017
PE: Safety warning:- pupils may not wear earrings for PE. As the pupils are doing gymnastics on THURSDAYS they must wear shorts and a T-shirt as they are climbing and moving on apparatus. No joggers or skorts are allowed.
PE is also taught on a Monday and the lessons will be outside if the weather is fine or in the hall.
PE clothing is a pair of green or black shorts, a yellow T-shirt, joggers in winter if outside and trainers and socks.
HOMEWORK:
Spelling lists will be sent home on Fridays for tests the following Friday.
Maths and English will be sent home on Fridays to be handed in the following Frisday.
Pupils must read at least four times a week and have their Reading Record signed by an adult.