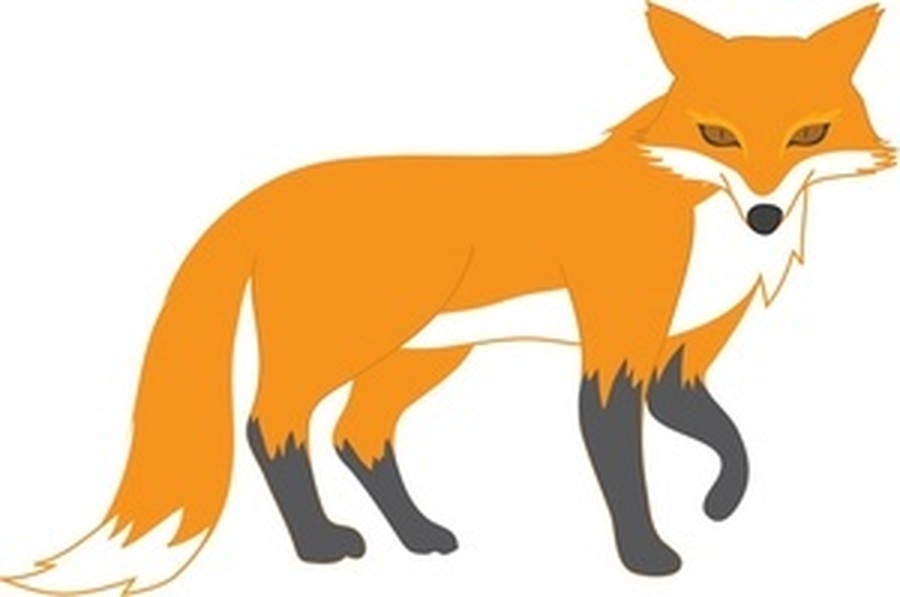 Year 2 - Foxes Class
The Class Teachers are Mrs Thompson and Mrs Mitchell.

The Teaching Assistant is Mrs Collins.
Please find below the list of Year 2 Common Exception words that children must know by the end of Year 2.
Here are some great links to websites where pupils can practise their times tables...
https://www.topmarks.co.uk/maths-games/hit-the-button
TERM 5- Muck, Mess and Mixtures
This term our theme is 'Muck, mess and mixtures'! Please find this term's class newsletter below...
On Friday 18th May we celebrated the Royal Wedding. We wore red, white and blue and had a picnic lunch. We then played games organised by the Year 6s and were treated to cupcakes by Mrs Cooper.
Investigating different mixtures...
This term our theme is 'Land Ahoy!' Please find this term's class newsletter below...
Friday 9th March was Mum's Day in school. Below are photos of some Year 2 Mums joining in our pirate themed activities. We drew symmetrical pirate pictures, wrote Pirate acrostic poems and drew pirate self portraits!
We made lighthouses using junk modelling. Below are pictures of some of our models. You might also be able to spot some of our fantastic World Book Day costumes in the pictures too!
Home learning ideas linked to 'Land Ahoy'!
Search the web or non-fiction books to find out about a famous boat or ship. Make




an information book by writing down interesting facts, downloading images or




making drawings. Famous ships to choose from include RMS Titanic, the Santa




Maria, the Cutty Sark or HMS Belfast.

Design and make a boat. What materials will you use? What shape will your boat be? What name will you give it?

Visit a maritime museum, boat show, lighthouse or harbour with your family. Take




lots of pictures to show and talk about at school. Maybe you could interview a




family member who has worked at sea or has been on a cruise, to find out about




their experiences.

Visit your local library to read and borrow story and information books about the




sea. Write or film a book review about your favourite.

Make a pirate treasure chest using a lidded box and other recycled materials. What




will you keep in your treasure chest? Bring it to school to show your class and




explain how you made it.

Make a map of your home and local area to show all the main features. Include




physical landmarks such as beaches, hills or forests, as well as human features such




as shops, farms or harbours. Where would be a good place to hide treasure? Can




you plot a route to find it?

Find and learn some pirate jokes. Practise reading them at home to perform in school and make your pirate friends laugh! Aye, that be funny!

Look at holiday brochures or travel websites and talk about holiday destinations around the world. Which seas or oceans are close to each destination? Locate them on a world map, noting their location in relation to the Equator and the North and South Poles. How does the location affect the weather? Where would you most like to go?
TERM 3- 'Beat Band Boogie'
Jessica's Grandad Bill came in to show us his guitar. He talked all about the different parts of his guitar, he showed us how you play it and what chords are and then even played us a song! Thank you very much Bill!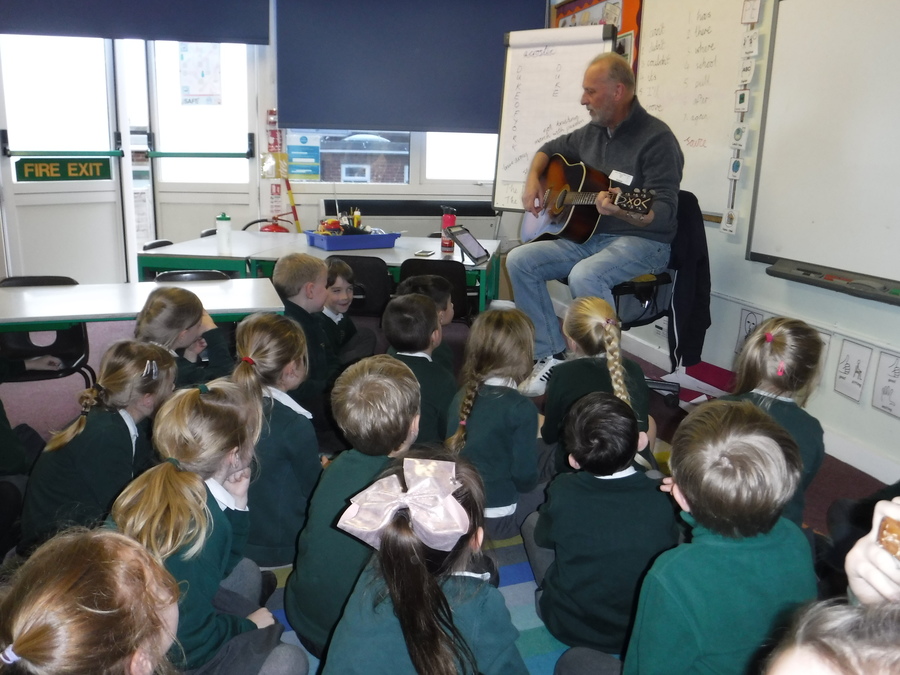 In Science, we went on a Sound Walk around the school. We were listening for different sounds and trying to identify the source of those sounds.
In P.E. we are doing Dance skills using music from 'Frozen'. We have been creating sequences that involve poses. gallops, rolls and turns....
Here is an Art display created this term by Foxes based on the work 'Crossing' by Guy Billout...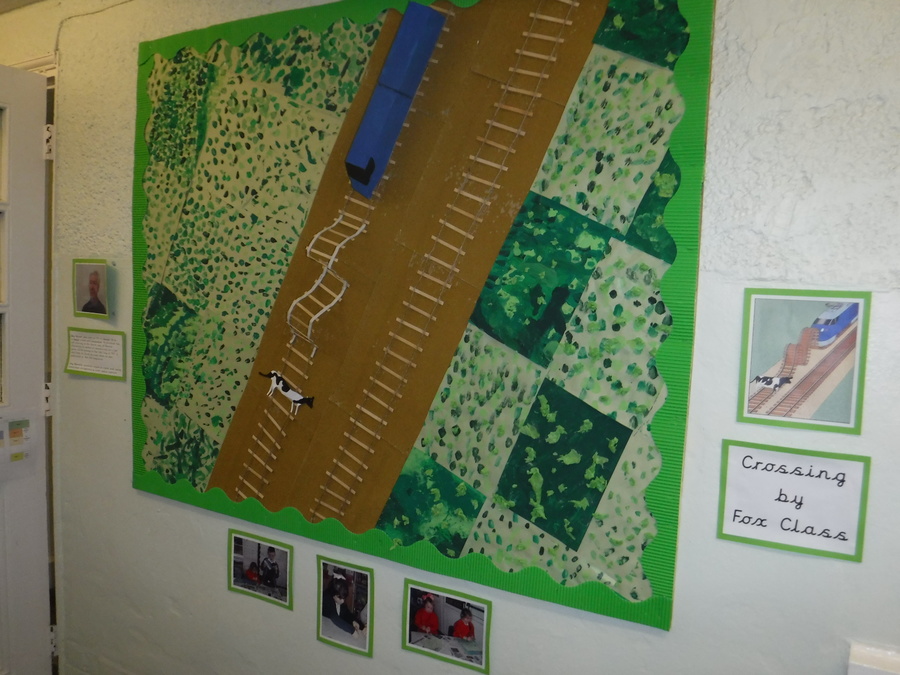 Here are some pictures from our fantastic Forest School learning this term. We even created our own 'Beat Bands' using kitchen utensils! More pictures from other Forest School sessions will be added each week!
On Tuesday 9th January, we went across the road to visit Sutton Valence School. We went to look at some of the instruments that they play in their bands and orchestras there. We were lucky enough to hear some of them being played too!
This term our theme is 'Beat Band Boogie'. Please find this term's class newsletter below...
TERM 2- 'The Scented Garden'
In Term 2, Year 2 have been taking part in Forest School on Wednesdays. Have a look at some of the exciting things we've been up to...
We have made flower collages....
We planted sweetpea seeds.
We were very fortunate to have a visit from a Gardener who answered lots of our gardening questions!
This is an Art display created by Foxes based on the work 'Face' by Ivan Khokhlov...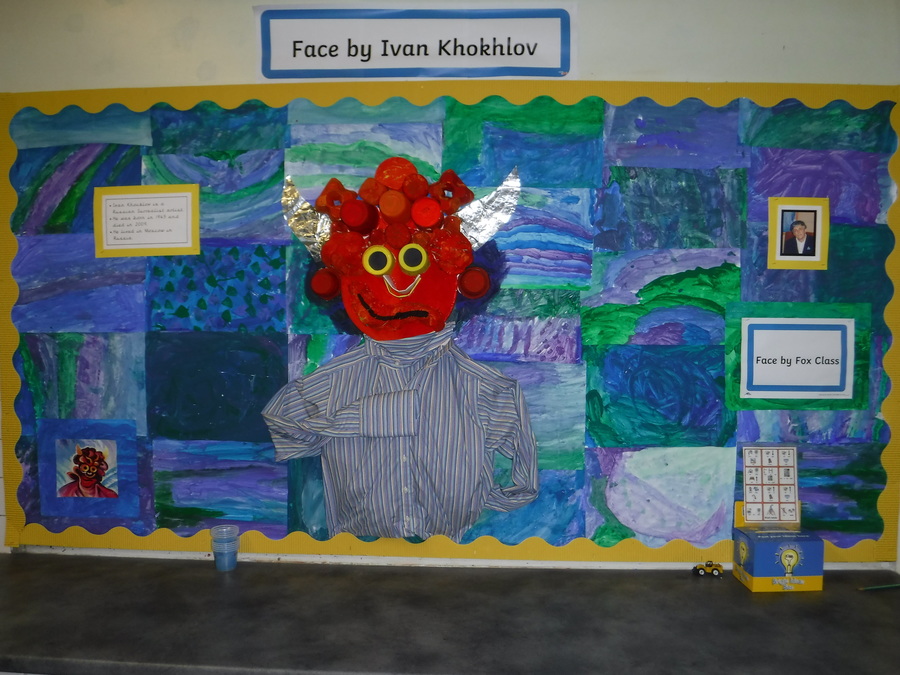 This term our theme is 'The Scented Garden'. Please find our class newsletter below...
On Friday 6th October, it was Grandparents Day. Thank you very much to those Grandparents that came along and shared in our learning!
In R.E., we have been learning about the patron saints of the U.K. In this lesson we focused on St David of Wales. We read the story of St David and discussed why he is important to Welsh people, we listened to the Welsh National Anthem and we tried Welsh cakes!
In Maths, we enjoy graffiti maths lessons where we record our ideas on large sheets of paper covering our tables and we practise our maths reasoning skills through discussion with each other!
In Science, we went on a materials walk around the school. We discussed what materials we could see, what their common uses were and why they were suitable for these uses.
In P.E. we have been doing Gymnastics. We have been focusing on developing different ways of balancing and travelling on the equipment.
Mrs Thompson challenged us to make a tower, tunnel or turret using different construction sets. We adapted and improved our models as we went along.
Please find below the newsletter for our new topic 'Towers, Tunnels and Turrets'...