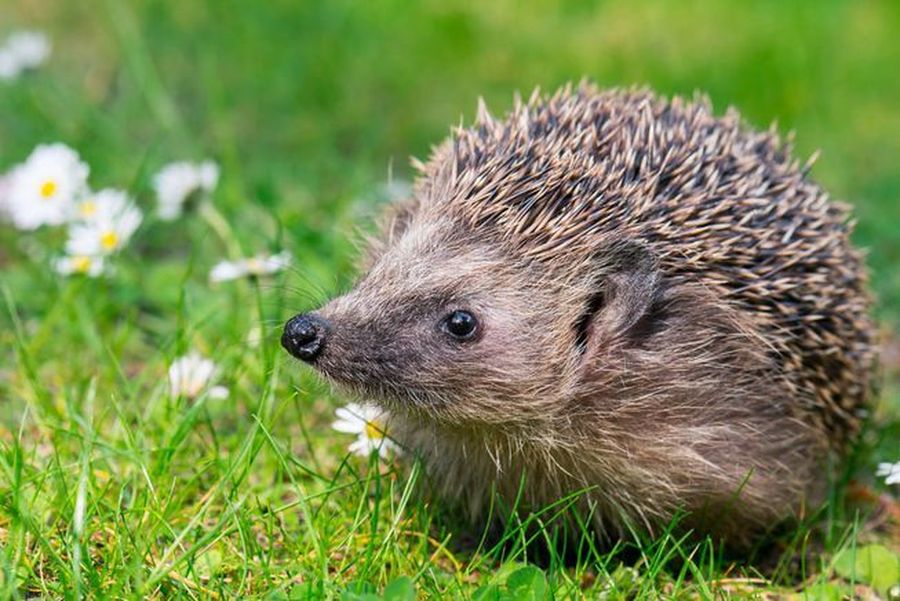 Welcome to Hedgehog's page!
Class Teacher: Miss.Coleman
Class Teaching Assistant: Mrs.Cordrey
Please ensure children have a water bottle every day.
COMPETITION TIME!
Deadline for entries: 15th March.
Design a book front cover of your favourite character. You need to use an A4 sheet of paper. Make it look colourful!
The winner will get a £5.00 voucher to use at the book fair.
The book fair will be open each morning and after school from Monday 19th until Thursday 22nd March.
Skip to Be Fit!
On Monday 12th March we completed a skip to be fit challenge! Everyone in Hedgehog class tried their hardest and showed amazing determination and perseverance!
Ellie - ''We had to skip for 2 minutes, it was a long time to skip.''
Edward- ''I have learnt how to skip now, that makes me really happy!''
Charlotte - ''I was practising counting my skips, then i checked on the counter.''
Vinnie - ''We were given blueberries because we were good at skipping and our brains needed fruit to help us skip!''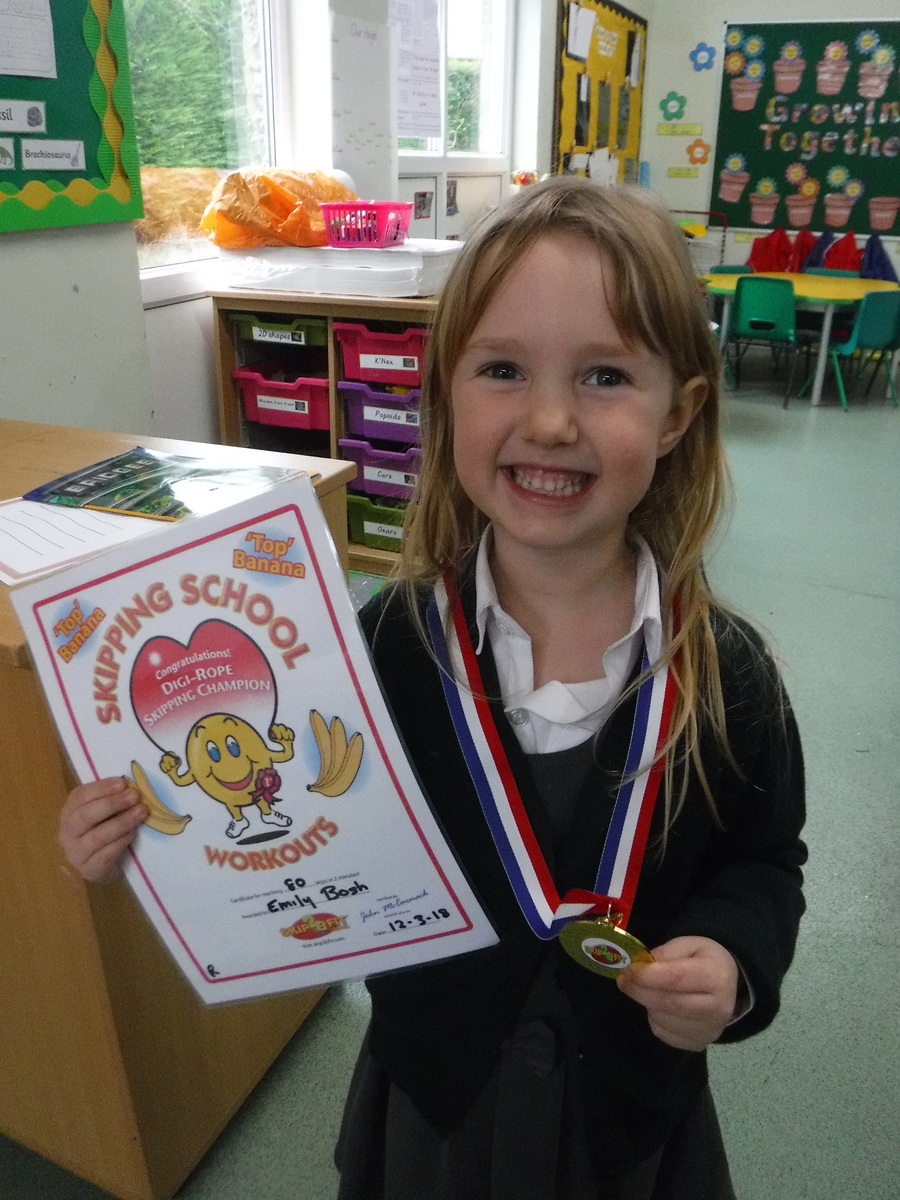 Emily was the champion skipper in Hedgehog class!
''I skipped 80 skips in 2 minutes! I nearly beat Miss.Coleman!''
Our week will have a big focus on bridges in relation to our construction topic. As it is British Science Week we will be completing experiments linked with building bridges and how much weight we can add to them. For this we will be using newspaper, so if you have any spare newspaper at home please bring it in for us to use!
Week commencing 12th March.
Mums Day!
Thank you to all the mums who were able to come into hedghog class and join in with our day! Thank you for getting stuck in and taking part. We hope you enjoyed the day as much as we did.
Due to the snow last week our World Book Day was re-arranged to Wednesday 7th March. We enjoyed a day of being dressed as our favourite book character and sharing lots of stories!
Addition using single digits.
We have been using various ways to work out addition maths problems. We used numicon, counting cubes and number lines. We know the end number will always be a bigger number than the two we add together. To find the total we count the amounts altogether.
We have been exploring the seasons and the cycle in which they occur. We created our own season wheels using pictures and colours to represent each season. The snow last week was an amazing opportunity for us all to explore and experience and to see the change between winter and spring. We have been using our senses to describe the changes that are happening now we are in spring! We can not wait to see the spring flowers, butterflies and blossom on the trees.
Week Commencing 5th March.
Continue learning on snow days:
MATHS
We have been identifying one more and one less of numbers, maybe you can find numbers around your home or the environment and count back or forward. Don't forget to use things around you for help... maybe even a line of snowballs!
We have started to use the correct terminology for adding numbers together. Can you verbalise a maths problem using add and equals? Can you show your maths problem using objects around the house? Can you produce in written form the maths problem?
There are lots of interactive games that relate to the maths we have been learning on:
https://www.topmarks.co.uk/maths-games/3-5-years/counting
WRITING
We are continually developing our fine motor skills through letter formations. Keep practising using a range of materials.
Can you create a mind map of key words relating to the weather we have been experiencing. Use your phonics to sound out your words. It doesn't have to be fully correct yet, just phonetically plausible.
We are also focusing on writing sentences. Can you write what you have been doing whilst not at school? Have you been in the snow? How did it feel? Whats going to happen to the snow eventually? Don't forget to use Capital letters, finger spaces and full stops.
PHONICS
Continue practising your phonics so that you can use them in your reading and writing! Recap phase 2 and we are currently learning phase 3. There are lots of free games on:
If you would like support in knowing how to pronounce the phonics yourself please take a look at:
http://www.ruthmiskin.com/en/resources/sound-pronunciation-guide/
Over this topic we will be exploring different areas of construction and how different structures are made. These will include;
Our homes

Bridges

Famous Landmarks

Castles.
This topic will stimulate the children's curiosity, understanding, knowledge and imagination about buildings and structures whilst incorporating first hand experiences. Any pictures or information about famous landmarks, buildings and structures you may have visited are great starting points for any discussion!
Construction - Topic for term 4
It was lovely to see so may parents and families came in to see the work we had been doing over term 3. The children worked very hard on their writing and creating dinosaur fact files. Also working in their groups to create a dinosaur land for the dinosaur they grew form little eggs. Hedgehogs were super excited to share this with you.
Thank you for coming in!
Maths!
We have been comparing numbers using the correct mathematical terms 'more' and 'fewer.'

Estimation has been a big focus to understand the concept and taking realistic estimations.

We have explored what finding the total means and the ways in which we can work it out. We used a range of manipulatives, such as counting cubes in hoops to find the total amount of cubes within the two hoops by counting altogether. We found ways of sorting and making it easier for us to count when there was a lot of cubes.

2D shapes! We have discussed the names for 2D shapes as well as describing the properties of a shape. For example; How many sides, edges and points. We have looked at ways of categorising shapes with their properties too.

We have begun to look at height and length and together created a class height chart which we measured ourselves on. We are going to measure each term to see how much we grow!
We chose the T-Rex to be the dinosaur we found because it is the biggest meat eater dinosaur! -Jonah
Together as a class we created our own version of the bear hunt story and changed it to become We're going on a dinosaur hunt! The children used their imagination to work out what things we would need to overcome and have thought of descriptive words to use!
Today when we arrived in class 4 little eggs had been left for us! The note told us to put them into water and care for them in our groups. We had to take pictures and record the changes each day! Follow our adventure....
Walking With Dinosaurs!
Topic for term 3
Hedgehogs have come back to school after Christmas break very enthusiastic and ready to learn! It is great to see so much work has been done over the holiday, showing off the things we have been learning.
Discovering and role playing together...
We have been very creative and are working hard to improve our writing!
Here we are making our bird feeders as we develop our outside area!